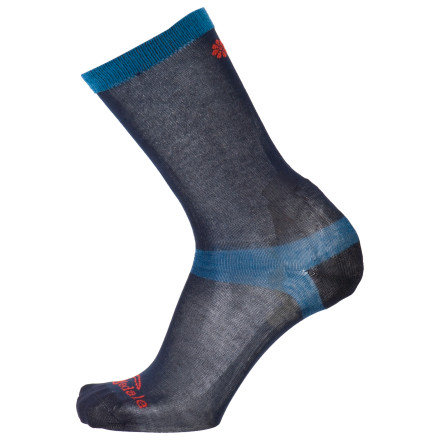 The Bridgedale Women's CoolMax Liner sock takes its job as a moisture-wicking layer seriously. Designed to be worn under other Bridgedale socks when you know you'll be encountering extremely moist conditions, like during spring mountaineering, this Liner mimics the supportive shape of the heavier sock. The result is a system that fits together precisely and works together to keep your feet comfortable and dry. The CoolMax Liner is tough enough to be worn on its own, should temps rise or you need to air out your other socks. Includes 2 pair.
Share your thoughts
What do you think of the
Bridgedale
CoolMax Liner Sock - 2 Pack - Women's
? Share a...
Blister free is the way to be!
I bought these for a field workshop were I had long day hikes across lava flows and up cliffs. These were amazing! I wore them under some wool hiking socks and even after exhausting hikes I had no blisters. The last day, and one of the least demanding hikes, I tried to wear my socks without these liners (just to try it out) and I had to stop and put them back on because my feet started to blister. I would never go hiking without these. I have tried other liners in the past but these are the best I have tried and are far cheaper than some others.
After years of hiking, have learned that liners are the way to go when trying to avoid blisters. Bought the Bridgedales before heading off for two weeks of hiking. Wore these under cushioned merino wool hiking socks. The Bridgedale liners fit really well, don't feel a seam across the toes, wick away moisture and have prevented any blisters even on long hiking days.
I love this linder socks. I do lot of long hikes(10miles+) and every time I get blisters regardless what i wear and what i do but with this liner, i have not gotten any blasters! i've done 12miler and 16miler and no problem! total awesome liner!
Wore these in a 26hour race - perfect!
These are great! i did a 26 hour race in them and no blisters. At the finish i was the only one in sight who didnt have huge blisters. I think I gave them the ultimate test drive and they passed with flying colours.
Unanswered Question
I bought some other liners at REI and after...
I bought some other liners at REI and after a hike I get a red itchy ring around my calf where the elastic was. I have an old pair of Bridgedale coolmax liners and they never did that. But one of these Bridgedale liners has a big hole, so I need to get new liners. I want to make sure I get liners that do not have an irritating elastic. Any advice? Should these do the trick? Regards, Rebecca
Awesome, super comfy & wicking
I wear these under thick trekking socks and waterproof socks. They are super comfy and wick moisture well.
Bought these for myself and daughters to wear under neoprene socks. We loved how lightweight and comfortable they were.