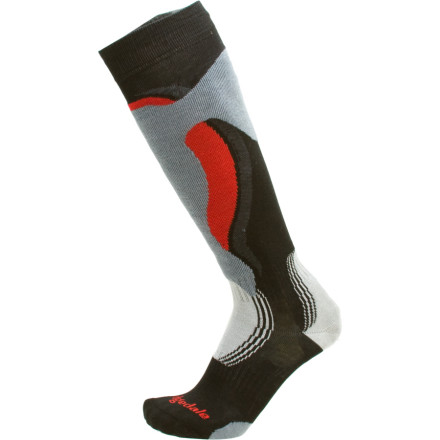 Detail Images
Description
Betcha didn't think that socks were the problem.
Slip on the Bridgedale Control Fit Sock and make skiing a less painful experience. The Control Fit is specifically designed for skiing and addresses some problems with ski boots that we just had to deal with in the past. The Control Fit reduces shin-bang, increases control, and eases entry and exit.
High-friction forefoot is grippy for greater control
Triple-padded shin reduces shin-bang from stiff ski boots
Friction-free heel and ankle areas make getting in and out of your boots easier
Wool and synthetic fabrics wick moisture away from the foot
They are some of the most comfortable socks for skiing I have ever worn, they don't move around on you foot, and they are not too thick.
I originally won a pair at a ski film premier...since have purchased more.
I can't believe that I am excited over socks. These are very comfortable and warm. Felt like I was wearing nothing at all. The sizing was spot on for me. The socks come up to just under your knees cap and have extra protection in all the places that a ski boot will hit. I wear a size 11 shoe and bought a size large.
These socks are amazing. I didn't think that socks could be this advanced. They kept my toes warm while I was skiing in about 10 degree weather. I bought the size medium and I wear a 9.5 shoe and couldn't be happier with the fit and length. The shin has a lot of extra material on it which was nice for those hard charges down the slope. If I ever need more socks, these will definitely be it.
These socks have been used about 10 times skiing. Before these socks my feet would always be could at the end of the day, but now that I have theses socks my feet stay worm. I am a little worried about how long these socks will last, because I have had them for a month and I can see a few areas where it is possible where they might start to fall apart(but nothing has happened yet.) Also- I read a comment where someone said the socks were too long, I am a 6"1' Male and I enjoy the height, maybe I just prefer the socks length because they are confortable and keep me worm, but I have yet to have a problem with them.
These were actually a Christmas present to our son who said they are great; however, they are too long, he has to roll them over because they go over his knee. He is 6', size 10 shoe.