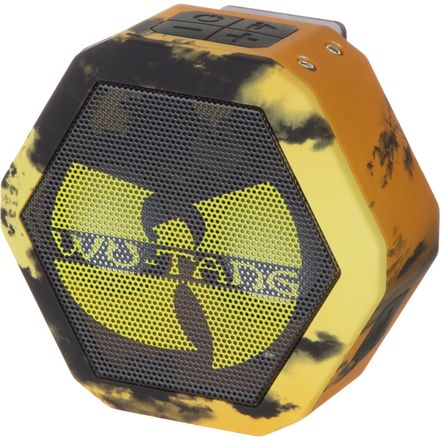 Colors

Detail Images

Videos

Community Images
Description
Watch that water vibrate.
Just like the extinct creature it was named after, Boombotix's Rex Bluetooth Portable Speaker will surprise you with its roaring sound. A bass woofer blasts beats, while the full fidelity stereo utilizes two 36mm drivers for clear audio across all genres. Bluetooth's wireless connectivity lets you play your favorites wherever there's a Bluetooth-compatible device; you can even take calls if you're connected to your smartphone. Not to worry if you aren't Bluetooth-savvy yet—Boombotix included a jack that connects to headphones, tablets, and other music-playing devices. You can recharge the battery with any USB device, and it has a run time of six hours with a charge time of only one. The housing protects it from dirt, splashes, and drops, and you can switch out the housings for Boombotix's many unique styles.

Full fidelity stereo with bass woofer
Bluetooth wireless connectivity
Durable water-resistant ABS housing
Hands-free phone
USB-rechargeable battery
Mini concert in a box
Familiarity:

I gave it as a gift but have feedback to share
I got this as a wedding gift for my sister. I didn't want to get the typical things that people do on a gift registry, so I went with something to give them a bit more excitement at home or on the go. This little hexagon blast out music plenty loud for jamming out. It has a nice thump of bass for such a small size and the woodgrain color looks really nice!
Boombotix Rex
Familiarity:

I've used it several times
I have used this item several times camping and it has yet to let me down. The warranty registry process is a really simple one and their warranty is pretty much anything goes wrong in the first year short of you drowning it they'll send you a replacement unit. It is very loud and for the price you can't go wrong with this unit. The clip is strong and you wont loose this unit on the slopes
Great for what it's meant to be
Familiarity:

I've used it several times
This is a great portable speaker that gets loud and won't break if you drop it. I got it to use at work, where there's noise all around me, and I never have to get even close to full volume. With background noise, most music sounds pretty darn good. The integrated subwoofer makes the whole thing vibrate, so the sound can change based on what type of surface it is set on. If it's quiet and you can really listen to the sound, certain music does start to distort once you start pumping up the volume, as others have said. However, I don't think this should be much of an issue if you're using it while at a jobsite, biking, hanging out with a group of people, or whatever you got this speaker for. Just don't expect fantastic sound at high volumes if you just want to sit down and listen to music.
I don't like the distortion
Certain music and certain artists music distorts really easy.

Billy Idol, no problem.

The Cult, so so but not great.

Dean Martin, no problem

Frank Sinatra, problem

Michael Buble, serious problems. He is a bit of a little fagtard, so it is what it is.

I can only go about half way on my phones volume before some music just starts to sound like shit.

I got it for picnicking at wineries. That is why I was putting Frank and the other crooners through it.

I am almost tempted to return it, but I will hang on to it and see how it goes. I want to see for myself if the pro has a better sound quality.

For a small speaker of its size and the ability to take music with you... Yeah, I guess it is ok. There definitely seems like some room for improvement in the sound quality.
how many hours of wireless play?
Their website says 8 hours for the Rex and 6 hours for their Pro speaker. Though this page is saying 6 hours of wireless playback
Bring the beats to your flow
Familiarity:

I've used it several times
I bought this guy so I could jam out on my mountain bike; it's been great. Audio quality is awesome and this thing gets LOUD. I haven't bumped it to full volume, usually running at about 50%. I clip the speaker to the hipbelt on my backpack which is comfortable and allows me great access to the controls. It's slightly uncomfortable when pedaling uphill but it's no biggie.

Connecting to my iPhone via Bluetooth was super simple and it reconnects super quick when I turn the speaker on. It also has audio in and out so you can connect this speaker with a traditionally auxillary cable.

Charging is super quick/easy through your computer with the supplied USB cable and you can use an iPhone type device to charge it through the wall.

I've taken a few spills while wearing the Rex and I have yet to do any damage to it.

I've also started using it to jam out when I take a shower. I love this guy!

Ben
brabinowitz@backcountry.com
801-746-7564
Pump up the jams
Familiarity:

I've put it through the wringer
This little speaker is awesome. Puts out a lot of sound. While not the highest clarity of sound, it is definitely recommend it. I use it biking and backcountry skiing. Sometimes it is real nice to have some music on the skin up that everyone can enjoy. Battery life is as advertised. This thing is rugged. Fell off my bike while I was traveling about 15mph. Went back and picked it up and it was still playing like nothing had happened. Had some scuffs, but no was worse for wear. This is a great outdoor speaker. I would recommend it.
I've had the Beats Pill for about a year and thought it sounded good until I got a Boombotix Rex. The Rex sounds better than the Pill and is way, way louder. For how good it sounds, I can't believe it is only $60. Since it is weatherproof I don't really have to worry about dropping it. I was always so careful with the Beats that I would forget to take it with me on trips or camping.

Right when I got it, I clipped it to my pocket and took my dog for a long walk. The clip was super solid and I barely even noticed I was wearing it after a few minutes.

It is super rugged and portable and I can't wait to test it out with my bike (I bought the bike mount as well.) Overall, I am very happy with my new little speaker.
Boombotix Rex Bluetooth Portable Speaker
Easy to bring on my adventures
Familiarity:

I've put it through the wringer
Sharing music with friends on hikes, bike rides, and backcountry ski trips is easy with the REX. The clip makes it simple to attach to a backpack and play music, its much more 'toteable' than my other speakers because of this clip on nature. Reminds me of the iPod shuffle. Very great sound, even at the highest volumes, and very rugged. Love the new blue color, looks so good in person!
Was nice to ride around and be able to hear the traffic. Definitely a way safer way to roll.
Impressive punch for the price
Familiarity:

I've put it through the wringer
There are thousands of bluetooth speakers on the market right now but very few of them are truly designed for outdoor enthusiasts. I'm an avid skier and biker and when I was looking for a speaker, I wanted a device that was lightweight, had some level of waterproofing protection, and preferably something with good battery life that will last all day. What sold me on this product was the built on clip and the connector covers. The product clips on like a tape measure and the clip is actually quite strong.



On my first couple uses, I had it clipped on to either my pocket or my backpack strap. It was nice for just playing my music subtly when I was biking. When I was with friends I cranked it up a little bit more at the top of the run. It had the power of a real docking system but so much smaller. Battery life is pretty good. I usually get a full day out of it. I noticed it gets significantly longer life when I put volume at 8/10 or so versus fully cranked.



Since buying this thing, I've crashed on it several times and it's held up to the test. It's been through some light water exposure and does not seem to be phased. At $60 it is actually a really good value product that comes with a well supported warranty. I'm a fan.