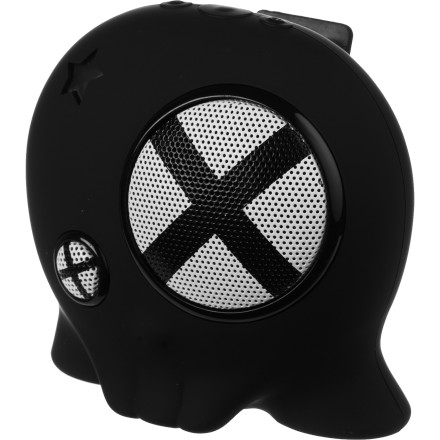 Community Images
The Boombotix BB1 Speaker crash-landed on Earth while en route to a remote planet and decided to stay here to provide mankind with a new way to listen to music.
Loud, crystal clear sound bumps at 94DB with 3-5W power
Steel spring clip attaches to your belt or backpack strap
IP53 water-resistant housing keeps the speaker performing in light rain and snow
Rechargeable lithium ion battery charges in less than an hour and runs for up to 12 hours
Includes a three-foot, tangle-free audio cable with male-to-male connection
Uses a standard 3.5mm female jack connection and mini USB port
Intuitive +/- volume control keeps the DBs down when the upstairs neighbor is home and cranks them up when he leaves
Compatible with iPod, iPad, iPhone, smartphones, MP3 players, and laptops
Measures 96mm x 92mm x 54mm
I love my Skully! It easily charges from the computer and last forever. I use it to listen to iTunes or when I'm watching movies and the sound is loud and clear! At first I couldn't believe such a small speaker could make that much noise.

I live near the beach so I took it out on my cruiser the other day, clipping it to my belt. The sound was epic! Other people were rocking out with me on the bike path. It was a blast!

I would definitely recommend it to anyone who loves music and wants to share it with the world!
After owning several of these little guys, I am a Boombotix loyalist. These things can take a BEATING, and withstand my abuse while biking, skiing, and partying. They're super loud, still give DAMN good response in general, and produce far more volume than any other portable speaker this size. You won't be disappointed.
Best speaker on the market
I've been surfing for many years in central California, and I've finally found an indestructible product to the beach. I use my Boombot while the tides change, while I'm changing in/out of my wetsuit and during any downtime. My Boombot has seen sand, saltwater, wax residue, yet it still BLASTS. Highly recommended for any surfer.
Boombotix (http://boombotix.com) team shreds Alpine Meadows in Tahoe, CA, taking portable speakers deeper than ever before. Nothing better than mobile audio in your ears and fluffy power in your face.
I've been riding with a Boombot all over the world over the past two seasons and this thing is ridiculously fun. It's actually loud enough to hear from the chairlift. It pretty much gets me through an entire day of riding. It has most certainly taken some pretty hard crashes and it still works like a charm. You will not be disappointed with this.