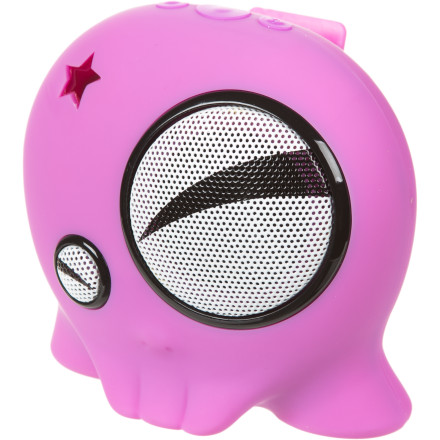 Detail Images

Community Images
Ancient civilization told stories of the Boombotix BB1 Color Speaker, a little alien creature that rocked worlds with its magical audio powers. The Boombotix B1 has returned.
Loud, crystal clear sound bumps at 94DB with 3-5W power
Steel spring clip attaches to your belt or backpack strap
IP53 water-resistant housing keeps the speaker performing in light rain and snow
Rechargeable lithium ion battery charges in less than an hour and runs for up to 12 hours
Includes a three-foot, tangle-free audio cable with male-to-male connection
Uses a standard 3.5mm female jack connection and mini USB port
Intuitive +/- volume control keeps the DBs down when your roommate is studying and cranks them up when it's party time
Compatible with iPod, iPad, iPhone, smartphones, MP3 players, and laptops
Measures 96mm x 92mm x 54mm
The BB1 I received did not work. It appeared to have been previously opened, so I may have gotten someone else's broken return. It was also bigger than I expected, but that's my fault for not looking at the measurements.
Rechargeable Li-Ion w/Great Battery Life(12hrs @ mid volume 6 hrs @MAX), Volume to size Ratio is insane, Water resistant and rugged. I am Impressed by these little things, Bought 1 Liked it but dont like MONO sound so I bought another and with the use of a splitter I have very portable and loud Stereo sound. Sound quality is easily the most impressive sound i have heard from a speaker this small (about 1.5 inch) This little thing is a Beast. Looks like a Real deal car audio component got put into a shrinking machine. High Extrusion design yields high output at low power consumption, clear highs and mids, Bass is there but not as much as the highs and mids (What can you expect from from a 1.5 inch speaker?). If using with a smartphone an EQ app can really make these shine if you care enough.
I used to wear headphones on the mountain but I thought it sucked not be able to hear the snow and the wind at the same time. Boombotix came out with these and we basically have crazy chairlift parties, safety meetings in the BC, and we build big booters with tunes coming right off the lip. Love my Boombot always.
Using Contour with a Boombotix speaker
Riding Tahoe with my Boombot
Riding some pow at Heavenly. THis thing is so water resistant!!!
I've been surfing for many years in central California, and I've finally found an indestructible product to the beach. I use my Boombot while the tides change, while I'm changing in/out of my wetsuit and during any downtime. My Boombot has seen sand, saltwater, wax residue, yet it still BLASTS. Highly recommended for any surfer.
Powder day at Alpine Meadows.... for sure a good testament to how water resistant these suckers are.
Most bang for the buck ever
At $45, the Boombotix speakers are by fare the best bang for the buck product ever. The battery lasts super long even at high volumes. It has been through multiple seasons with me and it is basically my buddy on my longer hikes into the backcountry. We post this guy up on booters and have tunes in the BC all day. They have a super chill warranty policy and a cool company. I've bought them for all my friends.