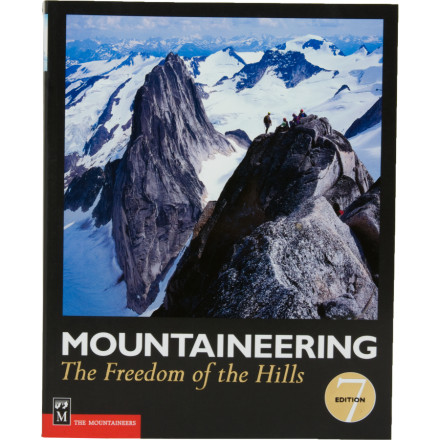 Detail Images
First published in 1960, the indispensable knowledge held with Freedom of the Hills has helped it come to be known as the climber's bible. From jamming techniques to rope work and expedition planning, this book covers all the essential skills needed to safely travel in the mountains. More than 40 expert climbers contributed to this hefty reference, which compiles lifetimes of experience and information into detailed chapters and handy appendices.
Share your thoughts
What do you think of the
Book:
Freedom of the Hills 8th Edition - Paperback
? Share a...
Unanswered Question
So is the version for sale the 7th or 8th...
So is the version for sale the 7th or 8th edition? The photo says 7th?
If you've never heard of this book, you should buy it and read it.
If you've seen it on your friend's shelves, you should buy it and read it.
If you've ever worn a harness, you should buy it and read it.
If you're serious about the oudoors, you should buy it and read it.
A super comprehensive guide on all things mountaineering. However it is also extremely valuable for all outdoorsman, with great advise on all things: camping, navigation, clothing and conditioning (fitness); as well as covering rock climbing, abseiling, ice climbing, big-wall climbing, snow travel & safety etc. etc. It really is the climbers bible.
This book should be the bible of every outdoor enthusiast's library. That said, the broad nature of the text does make it clumsy to use sometimes, and definitely lacks clarification on the thought process that should go into each technique. Everything is in there though, just take it with a grain of salt, and make sure that you supplement your reading with more specialty texts as well.
The holy bible of outdoorsmanship. The book is geared towards mountaineering, but is chuck full of information for hiking, camping, rock climbing, and survival. Think of it as your Boy Scout hand book on steroids! How should I layer my clothing? It's in there. How should I dig my latrine? It's in there. How do I tie a water knot? It's in there. Get this book and read it twice.