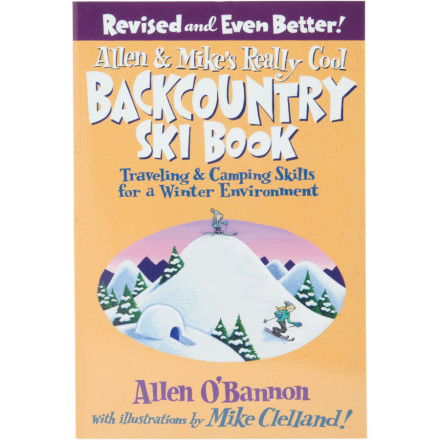 Detail Images
Pick up Allen and Mike's Backcountry Ski Book and prepare for your next, most excellent backcountry skiing adventure. This informative guide covers backcountry travel, avalanche safety, required equipment, winter camping tips, and helpful hints for minimizing your impact while you enjoy the wilderness. Stuff this easy-to-read ski text in your pack and keep years of knowledge available at a moment's notice.
What do you think about this product?
Have questions about this product?
I got this book at the recommendation of an REI rep. for some winter camping tips. It is packed with information, like how to build a quinzhee to layering correctly, and things that I would never think about, like how to avoid scorching snow. To compliment this, there are awesome informal drawings to help visualize what the writer is talking about. After reading this book I feel 100% more confident about camping in the winter and would most definitely recommend it to a friend.
Allen & Mike, none better.
I really enjoy Allen and Mike's book's, and the Backcountry Ski Book is no exception. If you buy one of their books, you'll be back online soon buying them all. Once done leave it out on your coffee table and see how many of your friends thumb through this book. Allen and Mike entertain as well as make you think about backcountry skiing.
I had the privilege of meeting Mike Clelland a few years back and it's cool to see his personality shine through in his illustrations here. Overall, the book is super informal, easy to read, and fun to pick up. The information on avalanches was a bit sparse, but, as the authors fully admit, you need to take a professional-grade class and practice those skills first hand. I also thought they devoted a lot of time to winter camping and cooking skills, which is important and was certainly informative, but I thought that info was disproportionally represented in the book at the expense of more detailed info on the ski itself. Anyway, don't let those two observations dissuade you--it's an awesome book and should be part of any backcountry skier's library.