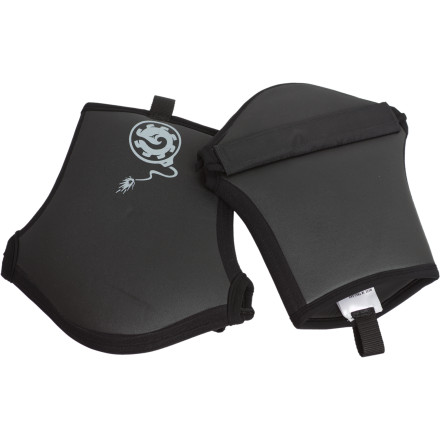 When scouting lines through glacier-melt rivers, keeping your extremities warm quickly becomes an issue. The Bomber Gear Pogie Paddling Mitt keeps your hands on your paddle while simultaneously keeping your bare skin out of the frigid waters. The waterproof, warmth-capturing neoprene keeps your digits functional while the lock-onto-paddle design provides the direct shaft contact your need for ultimate comfort and control.
Thermo-Conducting neoprene actually stores your body's heat so you can take it on and off without it getting cold immediately
Sub-Screened 2mm neoprene is injected with a Teflon-based ink to enhance waterproofness and durability
Pogie design means that it attaches to your paddle shaft; when you insert your hand into it, you have direct contact with your paddle
These pogies seem well made, however they are way small. They rub on your thumbs and knuckles. Too annoying for a primary set. I bought a set of Snap Dragon's and keep these with my breakdown.