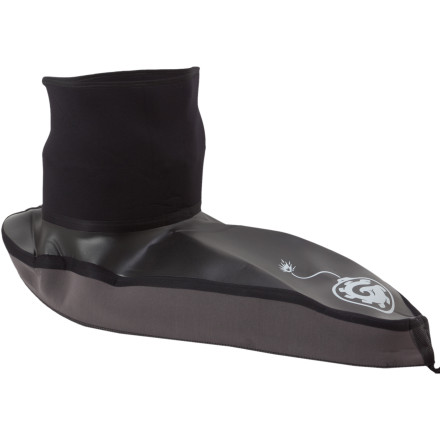 Colors
Description
Reliability and protection that you can afford.
The Bomber Gear Bombshelter Spray Skirt offers total water protection, long-lasting durability, and reliability at a reasonable price. Durable Bomblock construction fuses the Cordura coaming to the rubber rand and neoprene deck so you can count on the Bombshelter to provide just that; bomber shelter for your lower body.
Cordura coaming holds up to excessive use and resists wear from the composite rim of the cockpit
Ergonomic grab handle features Wick Clip—attaches to your PFD to keep the skirt out of your way during portage and also acts as a hanger for drying
Sub-Screen neoprene deck and Super Stretch neoprene waist offer a flexible seal that keeps you comfortable
Bomblock stitching where the coam meets the rubber rand
Very good skirt for the money
Familiarity:

I've used it several times
This skirt is very good, especially if you get it on sale. I got the medium tunnel, large cockpit. The medium tunnel is a bit snug (I have a 30 inch waist) but snug is better than loose. I was in the middle between the large and XL cockpit but went with the large and it fits very well with some muscle on my Jackson Hero and the rand is fairly stretchy compared to some other brands. The construction appears to be very good and I think it will last me many seasons.

As for improvements, it could use a few touches that the top brands are now doing. I think it could use some sticky rubber on the underside of the skirt where it touches the rim to help avoid implosions. It needs some sort of rubber at the front where the webbing on the grab loop runs underneath the skirt because it's not air tight. When I push on the skirt, I can hear air escaping at that point. Could also use some over-skirt around the front of the skirt (like IR is using) to further prevent leaking.

Overall I am pleased and would order again.
Happy with the product, but...
Familiarity:

I've put it through the wringer
I recently purchased a
XL TOO SMALL on Wave Sport Ethos 9
All of the sizing charts recommended the XL for the 37" cockpit of the Ethos 9. With all of my might I just can't get it on. I am exchanging for an XXL cockpit. Overall seems very well built.
Durable & Watertight
Familiarity:

I've put it through the wringer
Bought XL skirt to fit my LL Stomper. The rubber rand is tough to get on, especially winter paddling in NE, but it is extremely watertight. I am assuming during summer temps the rubber will be easier to get on and off. The skirt is very reinforced where the coaming attaches to the rand. Lastly the ink injected spray deck is awesome at repelling water and ice. It doesn't get soggy after a long day of paddling like other skirts do. I'm very impressed with the Bombshelter skirt and pleased to have it on the river with me.
Keeps water out - durable
Familiarity:

I've put it through the wringer
I've had this for about a year now. Bought an XL cockpit for my 4Play, but also keeps all water out of my Diesel 75 that has a smaller cockpit opening. This is the best Spray skirt I have owned and regularly get out after many hours of paddling with no water in the boat. I'm sure there are other great skirts out there - but I haven't tried them all. The rand stays tight around the back of the cockpit when I am stretching it out to the front. So even though it is a tight fit on some boats, it is not that hard to put on. After a year of reasonably frequent paddling it is showing no adverse effects.
This is the first skirt I have owned. I've used many different used and abused skirts over the years. This one was really tight when I first got it but after having my brother try it on it loosened up a little and fits better now. The rand has a nice lip on it so it holds onto the back of the cockpit while you put it on the front of the cockpit. Something the other skirts I've tried have lacked. I looks great and feels good! I love it! I use the Large Cockpit skirt on my Jackson Star playboat :)

Sizing Chart from Bomber Gear's Website:
Hip Sizing:
Small 26"-30" / 66 cm -76 cm
Medium 30"-34" / 76 cm -87 cm
Large 34"-38" / 87 cm -96.5 cm
XLarge 38"-42" / 96.5 cm -106.75 cm

Cockpit Sizing:
Small 28"-30" x 16"-19" / 71 cm -76 cm x 40.5 cm -48.25 cm
Large 32"-34" x 18"-20" / 81.25 cm -87 cm x 45.75 cm -50 cm
XLarge 35"-37" x 18"-20" / 89 cm -94 cm x 45.75 cm -50 cm
XXLarge 37"-39" x 19"-21" / 94 cm -99 cm x 48.25 cm -53 cm

Website: http://www.bombergear.com/products/sprayskirts/bombshelter-sprayskirt
Sizing Chart: http://www.bombergear.com/sites/default/files/BG_Sprayskirt_Sizing_Chart_0.pdf
Boat Fit Chart: http://www.bombergear.com/sites/default/files/BoatFitList.pdf
Bombshelter | Bomber Gear
This video is from Bomber Gear's website http://www.bombergear.com/products/sprayskirts/bombshelter-sprayskirt

You can go onto this site and find out what size skirt you need for your boat.