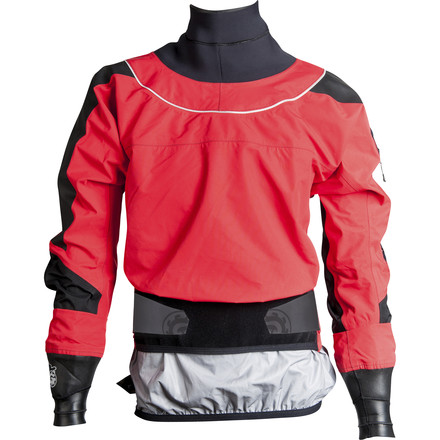 Detail Images
Description
A dry top that lives up to its namesake.
The greatest whitewater spews out of snow-capped mountains. The Bomber Gear Bomb Dry Top keeps you more than comfortable, allowing the furious paddling necessary to get through hypothermia-inducing hydraulics and waterfalls. The waterproof but breathable outer shell fabric keeps all frigid water out with the help of engineered neoprene cuffs, neck, and waist. That way you can pop up after big drops, giant holes, or crucial rolls and keep your wits about you.
small hands, warm heart
Familiarity:

I returned this product before using it
I'm female, ordered a Men's Medium since it was on killer sale. I have broad shoulders and often can't wear women's gear. I love the long arms and roomy shoulders on this model. Outer fabric is heavy cordura nylon - it feels like you could drag it over rocks without concern (good here in my shallow rivers!) Has a bead of reflective fabric and a whistle hidden in the neck (small and flat, I didn't even notice it). The only reason this dry top is going back is that the outer cuffs (not the latex gaskets) are SOOOO skinny that I just can't stand the struggle to get in and out of it. I usually wear a women's Lg or men's Med glove and could not get my hands through the very snug, non-stretch neoprene cuffs. If you have broad shoulders, long arms and slim hands give this a shot!

(sorry, didn't put this in water although I did try it on with skirt and pfd and found no issues with movement)
Less than Calm days
Familiarity:

I've put it through the wringer
On days that are less than calm, I don the Bomb Dry Top. Right now the water is around 36 degrees, so a spill would definitely be chilly! The wrists on the bomb are stout, with tough coated neoprene over the latex wrist seals. The softer neoprene guard around the neck's latex seal is less abrasive, and while a bit restricting (better that than loose and letting water in), it is comfortable and easily forgettable by the time you're in the boat. The material of the top is great. Not only is it super waterproof, but it is tough enough to stand up to pricks and pokes. The shoulders and tops of the arms are lined an even burlier material. All these factors combined with a good fit and a comfortable waistband help this top to live up to its name. Well done Bomber Gear. Well done.
Is this a newer version of The Bomb dry top that is also advertised on your site? I notice there is no white piping, the neoprene around the wrist is different and the full price is slightly more. It actually looks more like the Hydrobomb. Thanks.
Heather,

I can't answer your question regarding previous or current models, but this link might help:



http://www.backcountry.com/mens-paddle-jackets?p=brand%3ABomber%5C+Gear&nf=1



It shows 4 men's dry tops by Bomber Gear that backcountry.com sells. As you pointed out, it looks as if there are only two different options, but a different model for each. Pretty killer sales on all 4..



Hopefully this is of at least some help!