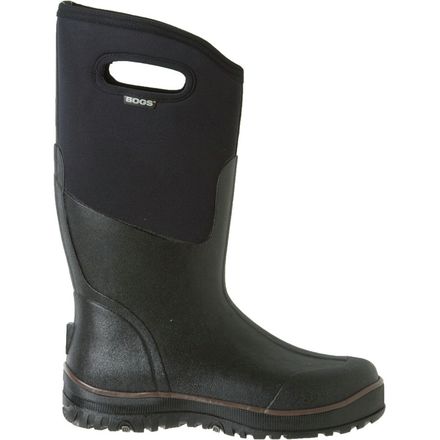 Detail Images

Community Images
Description
After a few hours of hefty shoveling, your feet are still warm and dry.
Slide on a pair of the Bogs Men's Ultra High Boots before you head out the door to uncover your truck after a two-foot snowstorm. These fully waterproof, durable, and hand-lasted rubber boots keep you plenty dry while you unearth your vehicle. Bogs even equipped these simple boots with 7mm of waterproof Neo-Tech insulation so you can stay warm and comfortable even in sub-zero temperatures. Pull-on handles make it easy to get the Ultra Highs on, Aegis anti-microbial insoles help keep your feet funk at bay, and non-slip, non-marking outsoles help ensure you stay on your feet.
Solid snow boots - great Xmas gift
Familiarity:

I've used it several times

Fit:

True to size
Got these for my man for Christmas, as he had been living in a ski town the previous winter with no proper snow boots. Although he didn't have too many chances to use these this winter, he loves them. They're sturdy, fit true to size and seem like they'll last forever. He really likes the height and the pull on handles makes them easy to throw on and go, with enough room to tuck in your jeans or pants. His feet are often too warm, but these are fine with a pair of wool socks. He's even been grabbing them to run out without any snow on the ground, because they're easy and comfy. That's a good sign.
Best way to Start your Day
Getting ski boots on and not touching you're foot on the ground is a real balancing act. I want nothing to do with that non-sense early mornings. See how I use my Bogs to create a waterproof, and warm platform for me to rest my feet before going into the ski boot. These are the best way to start and end my ski day.
great boots for winter/wet conditions!
Familiarity:

I've used it several times

Fit:

Runs small
These boots are amazing! They are extremely warm and comfortable. Using them in the winter is great....they just slip on with the handles and you don't have to spend 20 minutes lacing them up and tying them. Great for all wet/cold conditions mother nature can throw. I have the Bogs low-cut shoes in a size down, so they run a little different in size compared to the shoe. I originally ordered the same size as the shoe and they were too small, and I then had to return and go up a size.
He loves them
Familiarity:

I gave it as a gift but have feedback to share

Fit:

True to size
Bought these for workboots around basecamp (cat skiing op). Much better than big bulky sorels with a liner and just was waterproof and insinuated. He's a happy camper with dry feet so that means I'm a pretty happy camper too!

He has narrow fit and fit him well. Fit true to size once a bit of packing out occurs.
Farm Boy? Yes.
Familiarity:

I've put it through the wringer

Fit:

Runs small
Growing up on a horse farm in the Midwest I would have loved to have a pair of boots like these. The neoprene and rubber makeup of these boots is phenomenal. Normally with a high boot like these mobility starts to get pretty compromised but I have gotten down and dirty in these and had no problem walking, running, squatting, or kneeling. On thing that I really love about these is that the circumference isn't so small that you feel like you are wearing riding boots, but they are not so large that you cant pull your jeans down OVER the boot. One thing that I don't like about these however is that the top of the boot sits low on the foot and causes a bit of a pressure point. If you are moving around you don't notice the pressure do to the flexibility of the materials however give it a few minutes of sitting on your ass and your feet will start to hurt. A man with these paired with a set of micro spikes would be near unstoppable.
Bomb proof boots
Familiarity:

I gave it as a gift but have feedback to share

Fit:

True to size
They might actually take some damage if a bomb went off near them, but for muddy or snowy days these boots are solid! The pull handles make putting these on a piece of cake and the grip on the soles ensures that you stay upright and don't get a face full of mud or snow.
The weight of these boots?
The weight of these boots?
Thanks for the question Cyrus,

These weigh 4 lbs per pair.
Roughly how tall are the Ultra High...
Roughly how tall are the Ultra High Boots?
Hey Martha,

According to Bogs, these are 15" tall.
Agree with Bill
Familiarity:

I've used it several times

Fit:

Runs small
These boots are incredible, and possibly even magnificent! Super warm, super waterproof, and very comfortable. I wear these around the house instead of slippers because they are THAT comfortable. The sole is great for ice and snow, and it's high enough to get into deep snow without a problem. Word of caution, they are HOT! After 10 minutes of wearing them inside, my feet are boiling. These beat out any Sorel product in my humble but correct opinion. I am a BOGS customer for life. I normally wear a size 12-12.5 and I got the size 13. They fit great.
WALK IN WALK OUT COMFORT ALL DAY, BUY IT
Familiarity:

I've put it through the wringer

Fit:

True to size
These boots are by far the only waterproof boot I have ever used. Truly waterproof, your feet are not moist you can stand in a puddle and you will stay dry. I also ran a few times across the street and they breathe incredibly well too. Walk in walk out comfort. If your curious about sizing go up, I am normally a 9-9.5 and I got the 10 and it fits just fine. Its not a performance fit of course but it is comfortable warm and you can stand in them all day. Too small will not allow enough air in there to heat your foot. No need to thank me later after buying these just you enjoying warm dry feet for the first time in your life is enough for me.
Good Good stuff
Familiarity:

I've used it several times

Fit:

Runs small
I really needed some good winter boots so I did some homework and came to the conclusion these were right up my alley, and let me tell you they are.

These boots are incredibly warm and comfortable. The first time I wore them we ran into an early snow storm in the Uintah mtns in late September and i ended up wearing them the entire weekend.

We built a deck and I wore them all day in 30-35 degree muddy/snow conditions and they were at times a little too warm, but at the end of the day i was almost sad to take them off. My feet didn't hurt at all and felt great.



I highly recommend these to anyone looking for a winter boot.



The size 11 fit me perfectly and normally i wear a 10.5. If you're in-between sizes choose the larger size. They sit just above my calf and kept 12" deep snow out without gaters.
Love these boots!
Familiarity:

I gave it as a gift but have feedback to share
I got these boots for my dad. They are extremely durable, warm, and soooo comfortable (I tried them on). Unfortunately I ordered them a half-size too small, but I'm definitely going to re-order them when they are back in stock...and I'm going to get myself a pair as well. Good investment if you're looking for an all around work boot.
No question, simply the best.
Gender:

Male

Familiarity:

I've put it through the wringer
Without a doubt the best winter boot I have ever owned or worn, bar none.

I've had a pair of these for three years. They look like they are brand new and still have all the comfort and support in the arch and heel. The tread on mine is not that aggressive, more like an ice tire, but they grip great.

They are 100 percent waterproof - I have stood in partially frozen creeks with these for extended periods of time. The high sides mean you can wade almost up to your knees. I like the handles, but if they got rid of them, you could wade another 3 inches.

Plus, they are snug enough without laces to do any activity you can think of. So you're in and out of your boots (for example, to chase an escaping dog) instantly.

Simply put, I cannot provide a higher recommendation. These are simply the finest winter boots I have ever owned and I very much doubt I will ever buy a different type of boot.
great boots
Gender:

Female

Familiarity:

I've used it several times
Got these for my husband and he loves them--easy to put on and take off, good fit, and warm
So far so good with this boot. I've been using it as my commuting boot and pre-activity boot. What I mean by that is I normally wear this in the car pre-ice climbing or hiking before changing into my activity boot.

They are easy to slip on, has enough fit around the foot so it won't come off easily in deep, sticky snow and can stand up to the cold (have worn them in -25 celsius weather so far).

A design note, I think they can actually get rid of the outer handles as I've never used those. The inner ones are perfect for lugging them around, though.
I got these for my husband even though he didn't think he really needed anything like them because he has winter boots that are waterproof, but now that he has them, he loves them and wears them any time its wet outside.
If you're like me, you hate nothing more than cold wet feet. Bogs are the solution. I have two bits of advice on these: Make sure your hands are warm because you won't notice your feet and if you have movement on the heel, use a thicker sock. Enjoy!
The Bogs® Ultra High is a classic waterproof outdoor boot for any season. www.bogsfootwear.com