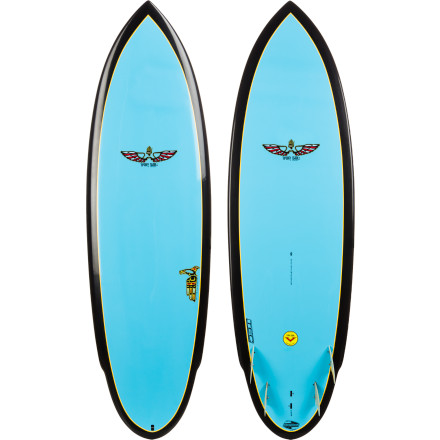 Detail Images
You can show up to the beach with the Boardworks Von Sol Shadow Surfboard on any given day and know that not only will it do the job, it will be a blast to ride no matter what the wave conditions are. That's because it has a hybrid shape that combines the best of both worlds from fish and standard shortboards. The fish-like front makes paddling and wave entry easier, and provides immediate planing and speed once you drop in, even on small waves. It's all business in the back with a single elevated wing providing release when you need it and a fairly foiled-out tail that skates across soft sections and bites into the wave when you're carving. From small, mushy waves to overhead swells, this versatile quiver killer guarantees a good time in almost any conditions.

TEC (Thermal Epoxy Compression) Construction features a dual-density core bonded to a high-density outer shell for an amazing strength-to-weight ratio and excellent response
Fish-like tip shape provides speed and easy wave entry
Shortboard-shaped back improves maneuverability and versatility
Foiled-out, round-pin tail skates across softer sections and bites into the wave face on hard carves
Unanswered Question
What type of swell is this best for?
What type of swell is this best for?