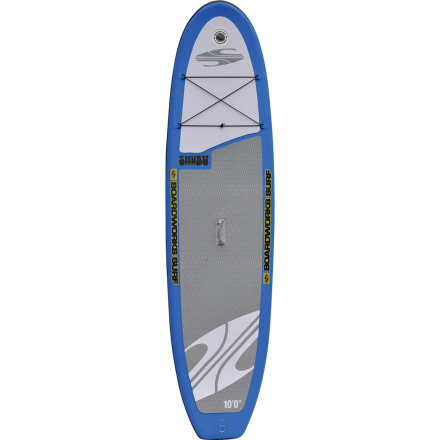 Community Images
Whether you want to SUP in far off places that would be virtually impossible to get your normal paddleboard to, or you simply want something you can throw in your trunk to head off to the local lake on weekends, the Boardworks SHUBU Inflatable Paddleboard is the answer. The tough rubber can handle just about anything your other paddleboard can, and it's relatively small size when deflated allows you to take it to places by plane, train, compact car, or on foot that you would never get to otherwise.

UV-resistant military-grade rubber constructed with a drop-stitch technique for maximum durability
A cushiony deck pad and the forgiving board surface combine to lessen foot fatigue
Tri fin set-up features two glued-on side rubber fins and one removable center fin, offering sufficient tracking for distance paddling and exceptional maneuverability on still or moving water
Four forward deck rings and a bungee system allow you to attach or lash on extra gear
Included backpack (carrier) features adjustable shoulder straps for transport and mesh sides for water draining
Included pump and patch kit fit into the backpack—everything you need is contained in one bag to make transport and storage simple
Mid-deck carry handle makes for easy transport from the shore to water and back again
Rear D-ring is ideal for safety leash to keep the board attached to your PFD when you bail
Paddle not included
RAD!
Familiarity:

I've used it several times
After doing the rental hussle all last summer I decided to bite the bullet and purchase an inflatable paddle board of my own. The Boardworks SHUBU is so great! The backpack carrier + pump is clutch and my whole set-up to easy to to hike in and out the shoreline. I'm 5.2 and 110 lbs so I can even do some SUP yoga on it. Not the most stable for that, but still a great time with friends. The bungee system is also great so you can strap on a dry of stuff to come along for ride or float.. Highly recommended.
Unless you live on the beach
Familiarity:

I've used it several times
when it comes to flat water, the inflatable is the way to go. I've used this board multiple times, it's incredibly convenient for storage and transport, much more so than a hard top.
Unanswered Question
I have a SHUBU paddle board. Getting it inflated to the proper PSI is almost impossible because the air valve doesn't close and all the air comes rushing out. It has always done this so it's not worn out; it's just a very poor design. Are there replacement valves that hold the air in?
how easy is it to inflate?
Takes less than 3 minutes.
Hi Kate - the valve turns right to lock the air in after you remove the pump. (push down and twist) Give it another try, I can pump mine to the max.
SHUBU - Show Up and Blow Up!
Familiarity:

I've put it through the wringer
The Shubu has been a great board for a variety of paddling. I tend to take mine out for chill paddles but have paddled it in up to Class III rapids. Has been a great board!
SHUBU iSUP
Familiarity:

I've put it through the wringer
My Family loves our " show up blow up" great for the lake and ocean. A lot easier to catch a wave with a paddle. Being that it's inflatable I will occasionally hit the white water. The Kern River is a blast and will scare the sh#t out of you on a stand up. Easy to transport too . Just deflate and roll it up !
Here's a great video that gives you a better idea of the size of the SHUBU when packed up.
Blew it up, fell in LOOOoooOOOVE.
Familiarity:

I've put it through the wringer
This "Show up and Blow Up" board is a treat! After 2 years of ownership here are my impressions:



* Convenient - I live in a tiny apartment, so this is really the only feasible way for me to own a paddle board. It does store fairly small, so this was really the only way for me to participate in stand up paddle boarding. While it is honestly kind of a pain in the "you know what" to blow up, that seems to be a reasonable sacrifice/trade-off for me. I upgraded to a MUCH better quality pump (The K-20 pump, it's amazing) and now it only takes me about 5-7 minutes to inflate. (This, honestly, is about how much time it would take to unload/load a car rack if I had a traditional fiberglass board anyway).



* Stable - I was a new paddler when I got the SHUBU, but I found this board to be infinitely more stable than the other two traditional hard and soft top paddle boards I tried out. When using it, some of my friends didn't actually even realize it was inflatable! I've noticed that bigger/taller people are definitely going to benefit from the longer 10'7" size SHUBU.



* AWESOME to travel with! I just took this on a flight back east, and it was a breeze! I just rolled her up in a snowboarding bag with wheels. I added a few bundles of clothing to protect my paddle, and it was awesome! Obviously not as simple an option with a traditional hard board, so SHUBUs are excellent travel buddies.



*SHUBU paddles like a dream in smooth water and tracks really well. I have yet to try river running, but will update this review when I do so.



*Included travel bag seems sturdy and haven't had any issues with it thus far. I did actually upgrade my SUP pump, since the one that came with was kinda dinky. It broke after only several uses. I upgraded to a K-20 pump which was the best idea ever after the iSUP C4 Waterman pump also completely broke down on me after 5 uses once I hit about 8 PSI (it's intended to inflate up to 15 psi - FAIL).


How much do these boards weigh? Thx.
How much do these boards weigh? Thx.
Hey Gina,

Our warehouse line weight is listed around 33 lbs, but that isn't always the most accurate measurement. I will contact Boardworks to see if I can find better info for you.
Gina, I finally got around to weighing my 10' board, it was 24.9 lbs. Keep in mind that this was just the weight of the board. Once you stuff it in the bag with the pump you are going to be looking at around 26-27 lbs for the 10 footer.