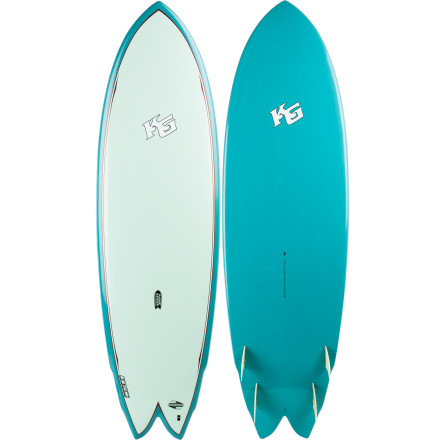 Detail Images
Once you catch your first wave on the Boardworks Kane Garden Nautilus Fish II Surfboard, the days of barely making it to work or to your dinner date on time increase. Ideal for all surfers in all types of surf conditions, the Nautilus provides a super-fun, stellar ride thanks to its incredible speed and maneuverability. Due to its catamaran bottom concaves, fuller outline with traditional fish-nose template, and double hard wings, this pocket-rocket fits into any part of the wave with ease and ensures a stable ride even at high speed.
Designed by San Diego shaper Kane Garden who's known for his fish-style boards that are unique, technical, and practical with an emphasis on speed, maneuverability, and versatility
Classic full-template fish design with post-modern design features make the board fast, fun, and high-performance
Fuller outline with traditional fish nose template, relaxed yet performance bottom curve, double hard wings, and deep fish swallow tail enable the Nautilus to ride well in small surf, allow it to ride under and over whitewater with ease, and empower it to accelerate out of each turn so you can make even the most difficult waves
Catamaran bottom concaves enable a stable ride even at high speed
TEC (Thermal Epoxy Compression) construction technique uses heat and pressure to fuse the epoxy layers to the foam core for added strength and response
ESS (Epoxy Stringer System) features 3 divynicell stringers that are saddled into 4 ounces of fiberglass and laminated to the deck sheetfoam to add strength and stability
FCS quad setup enables you to scream down the line, offers you more response, and provides a looser, skatier board
High-quality FCS fin system uses a fin box that's anchored deep into the board and that grabs the laminates on both the deck and underside of the board for a strong hold from back to front and top to bottom
Unanswered Question
Has anyone that has bought this ridden it...
Has anyone that has bought this ridden it and willing to provide feedback? A 6'4" fish seems kind of big, does it surf like a boat?
Great Surfboard
Familiarity:

I've used it several times
I ordered this surfboard over the labor day weekend on sale for a great price at 30% off. It came within a week but had a ding vs. factory defect on the tip of the nose. At first I was bummed and called to find out my options.

I was told a new board would be sent out in a week. A bit of a further bummer but as a matter of principle, I was willing to wait to get the product I paid for.



4days later I was told the Dogfunk didn't have my color in stock. I was bummed again!



Options given to me were:

1. Full refund and search elsewhere for a new board without the labor day sale price.

2. Get my board but in a different color (none that I liked)

3. Send in pictures of my ding to see about giving a further reduction/discount in price.



I selected option #3 and ultimately was given an additional $110 off.

The ding cost me $20 in materials and had to put in a little elbow grease but will gladly have a great board at nearly 1/2 original price.



Very pleased and would recommend Dogfunk to all of my buddies as a reputable site that backs up their products.



Sincerely

Jason