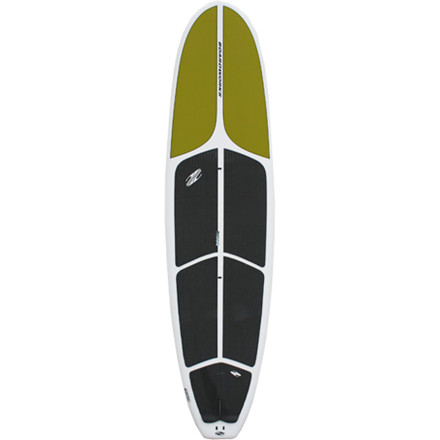 Community Images
The low weight, extra flex, and serious buoyancy of the Boardworks EPX Stand-Up Paddleboard's hand-shaped EPS core make this board easy to learn on and even easier to improve your skills. The longboard-inspired shape and tri-fin setup suits surf-style paddleboarding, but the easy-to-steer rocker profile and extra deck pad area allow novice paddlers to experience the joys of paddling on flatwater as well.
Hand-shaped expanded polystyrene epoxy (EPX) stringerless core offers great float and a forgiving flex to adapt to changing conditions and maneuver easily
Six-piece foam deck pad design allows paddlers of different skill levels and sizes to find the best position or move forward or back depending on conditions
Automotive-grade paint ensures the paint won't suffer premature wear or chip from impacts, salt-water, or sand
Tri-fin set-up offers better control and hold in faster turns, and you can use a single keel style for flatwater tracking
Thinking of buying Boardworks EPX Stand-Up...
Thinking of buying Boardworks EPX Stand-Up Paddleboard 10'6. Does anyone have experience with this board, I would love your comments. I am experienced surfer, new to SUP, will paddle mostly in flat ocean, river but want to surf small to midsize waves too. Is this board good for flat water cruising and surfing? I weigh 155, thanks
Yes. This board will be a good all around board, it will surf and it will do great on flat water.
Mike Tavares Surfing Colorado
A good buddy of mine using a 10' Boardworks EPX to surf a river wave in Salida, CO
A Swiss-Army Knife Board.
This board handles so many styles of paddling very well. I've paddled this Boardworks EPX board down the Colorado River, around the Boulder Reservoir's flat water and surfed it at Old Man's and The Rock surf breaks down on the Baja tip. It's performed exceptionally well in all of the paddling applications and one of my favorite all-around boards.

Remember to get the right safety gear and train up on river knowledge if you are going to play in the rapids. River SUP is my #1 style of paddling.
So is this the same board as the C4 Waterman...
So is this the same board as the C4 Waterman Pohaku? The C4 Waterman Pohaku Wide Glide is made from Boardworks EPX foam?
Same construction, different shape.