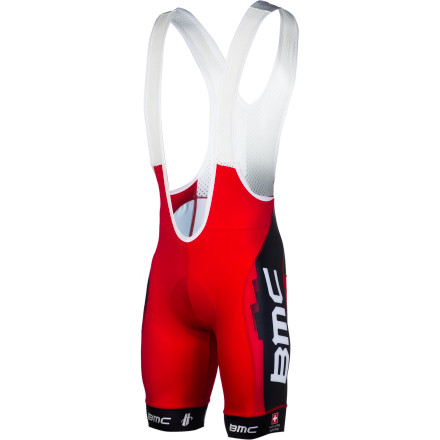 Detail Images
BMC Veloz Bib shorts provide all the comfort and moisture management needed by BMC's pro team. We think that speaks volumes to the amount of quality and detail that goes into each pair of Veloz Bib Shorts.
Veloz bib shorts features the soft-to-the-touch, ultra-lightweight AT2 Tour Lycra Power fabric. The blend ensures that you benefit from the gentle feel and powerful wicking of polyester, while maintaining the supportive fit and aerodynamic edge of elastane. Additionally, the weight of the fabric gives it compressive support that helps promote a positive blood flow to the muscles. And while it's not enough to technically classify Veloz bib shorts as a compression piece, the effects are notable.
For breathability, and further weight reduction, Veloz bib shorts feature Diamond Mesh at the bib straps. This produces an effective airflow through the uppers in order to keep you cool, and to aid in rapid moisture evaporation. Additionally, it also aids the fit and movement of the bib shorts with its malleable composition. So, when you bend and flex in the cycling position, the Diamond Mesh construction helps the braces move with your body, not against it.
As for the fit of the bib shorts, BMC designed the cut for the position and movements of cycling. Accordingly, the shape hangs on a bit of a contour, and thus affords the Veloz bib shorts with a true next-to-skin fit. Further assisting this are the securing features of the bibs. You'll notice that the leg openings don't use any elastic. Instead, BMC opted to use its HyperOptic Elastane. This material provides a more even compression compared to an elastic gripper. Additionally, it creates a seamless surface for ideal airflow, furthering the bib shorts' aerodynamic properties. Just as impressively, HyperOptic looks ordinary by day, but in low-light conditions, it's highly reflective. This bolsters your visibility to motorists when your ride goes a little bit longer than expected.
For the chamois, you'll be resting on BMC's Pro Chamois. Comprised of a variable density, perforated foam, the pro insert supports the regions that need it most, without impacting the ones that don't. So, the focus has been placed at the perineal, ischial, and gluteal areas -- the points most prone to distress from saddle pressure and compression. To account for hot spots and abrasion, the Pro uses a seamless construction to create an abrasion-free support structure. And at the center of the insert, BMC has placed a center relief channel that promotes an increased circulation by protecting nerves like the pudendal -- the primary source of numbness when compressed.
BMC Veloz Bib Shorts are available in X-Small through X-Large and in the BMC Team colors.