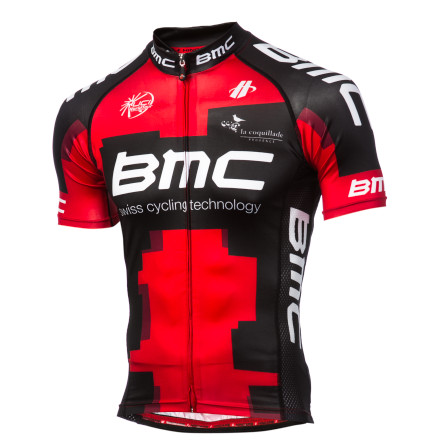 With all the aerodynamic components built into our bikes, it's a wonder that we don't pay more attention to streamlining the least aerodynamic component of all—ourselves. Fortunately the folks at BMC have thought about this. Their relentless pursuit of speed has led to the BMC Velocity Jersey.
Starting with the primary, drag-reducing portion of the jersey, the sleeves, which is also the foreword most point of the jersey, BMC used its Dimplex Lycra for the construction. This material builds on the moisture-wicking Lycra by giving the Lycra a dimpled surface. And like a golf ball, or Zipp Wheel's ABDC technology, this pattern interrupts the airflow crossing the surface of the Nitro in order to reduce the body's aerodynamic profile. Dimplex also benefits the user in the form of a compressive composition, reducing the fatigue-inducing effects of road vibration and muscle oscillation. In addition to this, the fabric is also provides a SPF 30 level of sun protection, protecting the skin from needless burns.
Over the torso, the Velocity features BMC's staple material, the TourTek fabric. This material provides a lightweight covering of the skin that effectively wicks moisture away, while also providing a conforming and adaptable fit. Accordingly, when coupled with the contoured fit of the jersey, there's no flapping in the wind, further reducing your aerodynamic profile. In terms of ventilation, you'll find that the Velocity features the Accelerator stretch mesh material at the underarms, giving excess body heat an efficient point of escape.
A full-length front zip gives you full control of on-the-fly ventilation, and three rear pockets ensure that you're able capable to carry everything that's needed for your long rides.
The BMC Velocity Jersey is available in five sizes from X-Small to Medium and in the BMC Team colors.