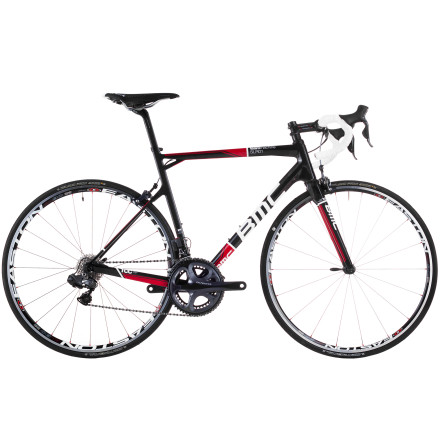 Detail Images
From podiums at the brutal Spring Classics, to stage and single day race wins across North America and Europe, oh, and that grand tour victory in the summer of 2011. While less the industry's best-kept secret as it once was, the rapidly growing palmares of the BMC Team Machine SLR01 are as impressive as they are varied. There are very few frames in the professional peloton that are able to claim emphatic dominance over cobblestones and hors categorie climbs under climbers and sprinters alike, but that's the inherent beauty of the SLR01. It's the result of calculated Swiss engineering that makes this bike an absolute blast to race at every point in the season. Even better, it's being presented here with the venerable Shimano Ultegra Di2 group set.
Lightness and durability; comfort and stiffness -- when it comes to frame design, aren't they opposites? All too true. Which is why BMC had to re-evaluate its choices in materials, and entirely re-think its tube shapes and configurations. In order to give the frame dampening where desired, and flex-resistance where required, BMC applied stepped tube profiles and new carbon fiber alignments and compositions. High modulus layers of carbon are used where stiffness is desired, high-strength layers are used where loads are heaviest, and high-elasticity layers were used where compliance was needed. This lengthy project of optimizing the overall ride quality of the SLR01 came to be known as BMC's Tuned Compliance Concept (TCC).
Where does BMC's TCC work make the biggest impact on the Team Machine SLR01? It's most evident in 3 areas. First are the seatstays. Their slender profile from the brake bridge down to the dropouts is reminiscent of the design that's found on the Cervelo R3 and the Ridley Excalibur, where these stays act as leaf springs to provide vertical compliance. But, above the brake bridge the stays are stronger in order to serve as a solid foundation for vibration-free braking. The seatstays are attached low on the seat tube in order to simultaneously improve vertical compliance, to maintain lateral stiffness, and to keep unnecessary weight to a minimum.
The second area benefiting from TCC is the fork. Unlike the way in which BMC spec'd a stock Easton fork on the Pro Machine SLC01, it's designed the SLR01's fork from the ground up. The crown has a strengthened cross section that reduces vibration while increasing braking control. The added benefit is an increase in lateral stiffness, which directly translates to an improved steering precision. The lower blades of the fork are slender in order to save weight and to help with shock dampening. So, how light is it? Well, an uncut fork weighs around 315 grams with paint and decals. Impressive.
The third area benefiting from TCC is the angle-locking seatpost. It's ovalized with a shape that's wider side-to-side than it is from front-to-back. This gives you both increased lateral stiffness under power and more compliance on rough roads. The reduced cross-section near the top of the post provides a bit more 'give' to further reduce vibration. All together, with paint, decals, and hardware, it tips the scales around 230 grams.
Design details aside, does TCC deliver? For starters, the weight goal was achieved. A 55cm frame with paint, decals, bottom bracket guide, and a derailleur hanger weighs around 930 grams. And, according to BMC testing, it provides nearly 60% more vertical compliance than both the Pro Machine and the Race Master SLX01. In terms of power transmission, it has 28% more lateral stiffness than the Pro Machine, and 13% more than the Race Master. From the standpoint of steering, it also has 12% more torsional stiffness at the head tube than the Pro Machine.
Some other points of note: The Team Machine SLR01 uses external brake cable routing for all of the right reasons. Basically, it'll save you about 60 grams on cable housing, and it doesn't hurt that external cables always result in the lowest friction (i.e. crispest) brake experience. However, shift cable to the rear derailleur is routed internally in order to guarantee shifting that's free from dirt and grime. The frame is now made with the BB86 standard bottom bracket. The BB86 bottom bracket corresponds to Shimano's crank spindle and bearing specifications. The tolerances of BB86 are so precise that the sleeved bearing assemblies press directly into the bottom bracket shell with no need for threads. This design saves 30 grams over traditional, aluminum-threaded shell designs and, at the same time, provides additional bottom bracket stiffness. It should be noted that while BB86 is designed specifically for Shimano.
And speaking of Shimano, this Team Machine SLR01 is built up with its race-ready Ultegra Di2 group set. Essentially, this group provides all of the crisp, grin-inducing joy of Dura-Ace 7970 without sending the price tag into five-digit territory. Rather than build out this world-class frame with components that're anything but exceptional, you'll also get Easton's EA70 alloy handlebars and EA90 alloy stem. Both are the exact pieces relied upon by the BMC Racing Team at every stage in the season. And, just like the team, you'll be rolling on Easton's EA90 wheels, the very same hoops that propelled Cadel into the Yellow jersey at the 2011 Tour.
The BMC Team Machine SLR01/Shimano Ultegra Di2 Complete Bike - 2012 passes the strictest CEN testing for frame fatigue. It has no rider weight limit and comes with a conditional 5 year manufacturer's warranty from defect. It requires the use of a braze-on front derailleur. It is available in six sizes from 47 to 60cm and in the BMC Team Edition Black and Red colorway.
does it come with a 105 gruppo, if so how...
does it come with a 105 gruppo, if so how much would it be? if not can you custom build it with 105?


This build is the Ultegra Di-2 grouppo. For other configurations you will want to give our bike department a call to see if a 105 setup is a possibility.
Have had it now for 5 months, but starting to put some miles on it outdoors this spring. Weight,handling and fit for me (53cm) was PERFECT (I'm 5"10 w ~32" inseam). Had it fitted and I'm not sure they adjusted anything - besides seat height, it fit out of the box for me almost perfectly.



On the downside, there was a couple small scratches on the frame that I didn't catch until I examined it outside in the sun. Not quite worth the hassle of shipping it back to Backcountry though.



Love it and highly recommend BMC and the SLR01.
Great bike! I could not be happier!
I could not be happier with my Team Machine. It is light. It is stiff. And it disappears beneath me. It's an amazingly quiet bike. Great, intuitive handling. Nothing negative draws attention to itself. Be careful to check out your fit -- I took a 53cm in this bike where I usually fit a 54cm or 55cm, depending on the maker. RealCyclist does a great job pre-assembling the bike, too. I've ridden S-Works Tarmacs for years and liked them - but the Team Machine is noticeably better for me. Great bike!
Unanswered Question
Hello, Is there a possibility to get it...
Hello, Is there a possibility to get it on size 47 color white? with dura ace shifters

Thanks a lot
First Impressions
Gender:

Male

Familiarity:

I've used it once or twice and have initial impressions
1. Price -- the price is the $500 lower than I've found anywhere else on the internet, no sales tax and free 2-day shipping.

2. Packing -- extremely well packed! Frame tubes were wrapped, then entire frame was zip-tied to a large sheet of cardboard before putting it all into a bike box. Best technique I've seen!

3. BMC build quality -- It seems that the state-of-the-art in carbon frame building allows manufacturers to crank out carbon frames in volume with excellent structural integrity. However, don't expect the cosmetic finish of a 1970's Colnago or Schwinn Paramount. The BMC clear coat is shiny but uneven; looks like shrink wrap unevenly applied. Not a defect, but definitely not like a first-class old fashioned paint job! My other road ride is a 2011 S-Works Roubaix -- the finish is no better (just different). Funny, but the carbon weave finish on 1990's Kestrels was better!

4. Ultegra Di2 -- I have Dura Ace Di2 on the Roubaix and, to the casual eye, there's only a cosmetic difference between the two groups -- I'd be hard-pressed to pay the extra $$$ for Dura Ace again!

5. Easton stem and carbon EA SLX bar appear comparable quality to Specialized S-Works. Easton wheelset is about 100 grams heavier than DuraAce carbon and hubs look cheap; have to see how they perform. For training they should be fine. Easton freehub definitely not as smooth as Shimano.

5. Out of the box the bike weighs 15 lbs 7 oz without pedals (50cm size).

All-in-all I'm happy with the price, shipping and initial inspection -- at $4499 it's a good buy (at $6999, not so much).

Snow and sand/salt on the roads have kept me from doing a test ride yet; maybe this weekend.
What are the complete specs on this bike...
What are the complete specs on this bike build?
You can find them on BMC's archive page...located here:

http://www.bmc-racing.com/us-en/bikes/2012/road/model/teammachine/slr01/ultegra_di2.html