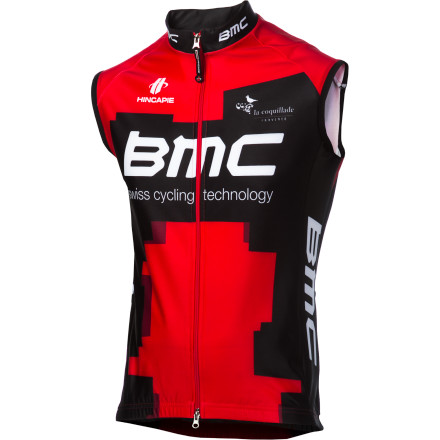 It's essential to keep your core temperature in check while you train in winter. The BMC Super Roubaix Vest features a soft-fleece-backed fabric that feels soft to the touch and helps your body keep its temperature in its ideal range.

Super Roubaix is a lightweight, wind- and water-resistant membrane that provides protection from the elements while allowing a high level of breathability. The bonded fleece backing makes the Super Roubaix Vest soft to the touch and provides a bit of insulation. It also stretches to conform to the body's shape, facilitating a proper freedom of movement. These combined characteristics make the Super Roubaix Vest an ideal choice for cool, wet, and windy days. It features a high collar and an internal zipper flap to seal out the elements. Furthermore, it also has reflective accents in order to increase your visibility to motorists in low-light conditions.
The BMC Super Roubaix Vest is available in one color and in four sizes from X-Small to Large.