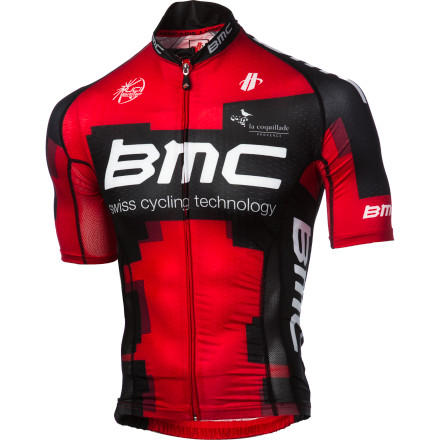 Detail Images
When summer really gets heated up, it's tough to leave the house. That A/C feels great, and the couch looks so comfortable. Don't do it! BMC designed the Summer Jersey to take the edge off summer's nastiest day, so you can get out there and get some miles under your proverbial belt.
The Summer Jersey's main body fabric is BMC's staple material, the TourTek fabric. This material provides a lightweight covering of the skin that effectively wicks moisture away, while also providing a conforming and adaptable fit. Accordingly, when coupled with the contoured fit of the jersey, there's no flapping in the wind, further reducing your aerodynamic profile. In terms of ventilation, you'll find that the Summer jersey features the Accelerator stretch mesh material at the underarms, giving excess body heat an efficient point of escape.
A full-length front zip gives you full control of on-the-fly ventilation, and three rear pockets ensure that you're able capable to carry everything that's needed for your long rides.
The BMC Summer Jersey is available in sizes from X-Small, Small, and Medium and in the BMC Team colors.