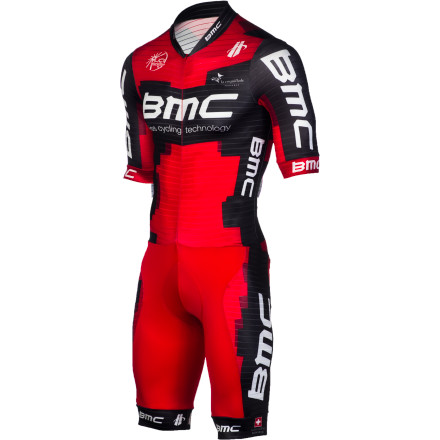 Detail Images
Hincapie and BMC developed the Short-Sleeve Speedsuit with direct input from the BMC Race Team. Its riders have been wearing this new speedsuit for its race-proven construction, advanced fabric technologies, and body molding fit. BMC made this version of the Speedsuit available to the public this year, helping you gain an aerodynamic edge over the competition in all of your upcoming time trial events.
Knowing that time trial athletes spend the majority of their time on the bike in low, muscle-taxing positions, Hincapie engineers used a combination of its AT2 Tour Lycra Power and StealthWerks3 fabrics to construct the Speedsuit. Both of these materials were incorporated into the suit because of their supportive, moisture wicking, and aerodynamic properties. Starting with the suit's upper, Hincapie's wind tunnel-tested Stealthwerks3 fabric was chosen for its ability to optimize airflow over the body. This material's textured surface is responsible for this wind-cheating effect, which incorporates polyester and elastane blended threads that have been woven into channels. Essentially, this design works by directing airflow around the body more efficiently than standard, smooth Lycra blends. In addition to this material's aerodynamic properties, the surface was treated with a hydrophobic finish that pulls moisture away from your skin and transports it quick-drying outer layer.
AT2 Tour Lycra was used for the suit's leg panels, as it's a polyester and Lycra Power yarn blend that provides a supple feel. At a lightweight 225 GSM (a measurement of fabric weight), the AT2 Tour blend ensures that you benefit from the smooth feel and wicking properties of polyester, while maintaining the supportive fit and aerodynamic edge of Lycra Power. Additionally, the weight of the fabric gives it compressive support that reduces muscle fatigue and helps promote positive blood flow. And while it's not enough to technically classify the Speedsuit as a compression piece, the effects are still highly-effective.
BMC's seamless Team chamois was selected for the Speedsuit. This insert was developed with the Hincapie's patented technology that results in clean lines and a smooth transition to the suit's lower panels. The insert's outer-layer was constructed from a soft elastic fabric with both antibacterial and anti-static treatments in order to reduce friction and promote high moisture transport. Below this layer, breathable open cell memory foam inserts provide comfort by conforming to your body while in the low, time trial riding position.
A full-length hidden zipper for additional ventilation has been added, as well as Hincapie's sleek, no-elastic and no-gripper comfort leg bands.
The BMC Short-Sleeved Speedsuit is available in four sizes from X-Small to Medium and in the BMC Team colors.
Share your thoughts
What do you think of the
BMC
Speed Suit - Short-Sleeve - Men's - 2012
? Share a...