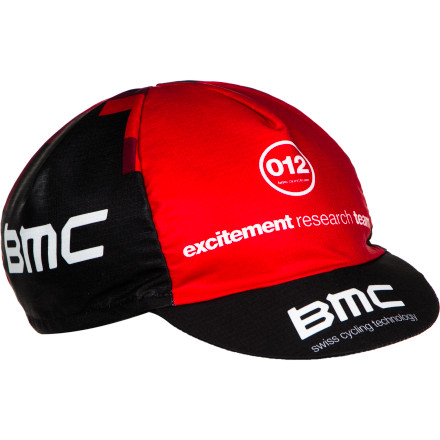 Of course, you have your own ambitions, but that doesn't mean that you don't have favorites in the pro peloton. Wearing the BMC Cycling Cap under your helmet is a subtle proclamation of support for the U.S.-registered BMC Racing Team and its 2013 aspirations. And of course, the cap keeps your head comfortable when conditions are less than ideal.
Made of durable ripstop nylon, the BMC cycling cap is lightweight and has a low profile. So, it fits comfortably under your helmet, and it takes the edge off the elements without cooking your cranium. The plastic, stay-true bill maintains its shape, even as you stuff it repeatedly into the smallest nook of your gear bag.
The BMC 2012 Cycling Cap is available in one color and is one-size-fits-most.
What do you think about this product?
Have questions about this product?
My other cycling caps are cotton and really soak up sweat. This hat is made from a thin nylon that doesn't soak up much sweat. It does dry quickly, for what it's worth. Just barely helps with sweat rolling down my face and into my eyes during a hard ride, so it isn't my go to. The bmc color blocking is cool as always, and BMC is printed under the brim. I have a small/med size head and this cap is pretty loose on my head.