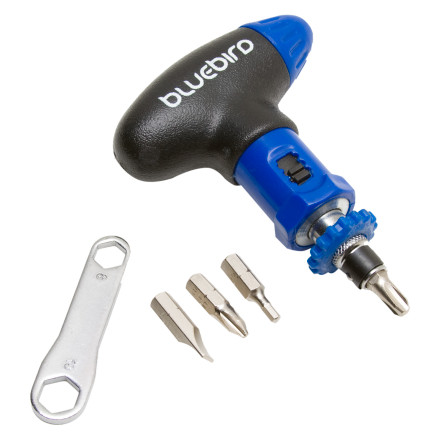 Bluebird Wax's Standard-ish Pocket Tool may be just like 6000 other screwdrivers sold out there by companies run by dirty old men. What sets this tool apart from all the others is that it is brought to you by a company that totally supports snowboarders.
What do you think about this product?
Have questions about this product?
This is the best tool you will ever own and it's made by real snowboarders like you and me!
I got this tool so it would be easy for me to fine tune my new board/binding setup out on the slope. The grip of this tool allows you to tighten screws much easier than a small standard screwdriver. The ratcheting action of the tool speeds up the whole process as well.

I found that the compartment in the handle for the extra bits is a little hard to get open when your hands are wet but not too much of an annoyance.
Its a good pocket tool for long days out on the slopes. I would however suggest keeping all the bits and attachments inside the handle when not in use. Otherwise the bit tends to fall out of the business end and into your pocket. Yes it means your glove is coming off either way... But if the bits are stored in the handle, at least you know where to find them...