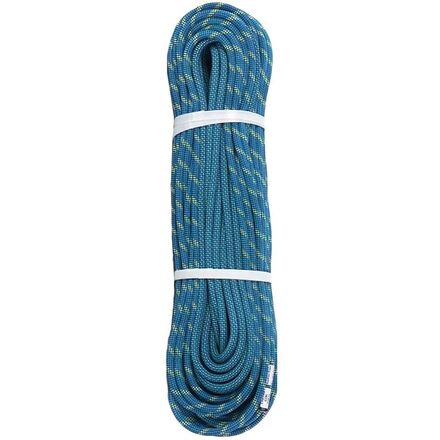 Colors

Community Images
Description
A skinny with a thick skin.
Endowed with a tight braid and an extra thick sheath, the Blue Water Icon Double Dry 9.1mm Climbing Rope brings a new level of durability to the world of ultra-skinny redpoint cords. As a result of seeking lower weights and smaller diameters, skinny singles have traditionally been prone to short lifespans. Thanks to the Icon's 35% sheath mass, this rope can provide the featherlight performance serious sport climbers need with reduced drag, increased abrasion resistance, and a longer lifespan.
Double dry treatment provides smooth and supple handling in wet conditions
8.8 KN impact force rating and 32.7% dynamic elongation ensure soft catches when you whip off your project
UIAA fall rating of five ensures the rope has ample strength for redpoint burns
A featherlight 55 grams per meter won't hold you back when you sprint for the chains
35% sheath mass and a tight braid reduce drag and give this skinny rope increased durability
9.1mm diameter places the Icon among the skinniest single ropes available
Available in 60m and 70m lengths
Perfection
Familiarity:

I've put it through the wringer
Light, runs well, takes a helluva beating. Great for leading and for tons of toproping and holds up really well. I've had thin ropes that haven't had the longevity because of the amount of climbing I do, and I've had thicker ropes that have held up great but you really feel the weight on longer leads. This grabs the best from both worlds. If I just HAD to mewl I'd wish it was bi-color but with how pleased I am with its performance I'll keep the five star rating without hesitation
Perfect Multi Pitch / Long Approach Rope
Gender:

Male

Familiarity:

I've put it through the wringer
My partner Nick flew out from New Hampshire to Vegas and then we drove over to Red Rocks for a week of solid climbing. It was a blast! Nick decided to bring his Blue Water Icon Double Dry 9.1mm rope with him and holy heck was I in love with that rope.

I'm use to climbing on some fat ropes. My normal work house is a Sterling 10.2mm which I love. I have a Mammut Infinity 9.5mm but this Blue Water 9.1mm...wow.

My initial thoughts were about how much less friction there would be in the system, primarily at my belay device, but this thing did a great job catching and not having a problem with my Petzl Reverso4 at all. Mentally I was concerned over the 9.1mm diameter, but after a few climbs it was pure-awesomeness. We had the 70 meter version which came in super handy since a few of the climbs we got on were a bit on the longer side where a 60 meter rope wouldn't have worked out so nicely.

Rigidity:
The rope had a bit of a stiff feel to it, after a few days it softened a little bit. I'm not a fan of super stiff ropes or ropes that are super soft. I like a rope that has a good balance of both, and I felt like the Icon Double Dry met that requirement.

Friction:
At first I was curious how it would be catching a fall with this rope. I had zero issues with having enough friction in the system. Locking off was easy. For rappelling adding a prusik is a must (really for any rappel) but a little extract friction from my auto-block was nice since it gave me the option of going hands free if I needed to clean a piece of pro that was being finicky.

Bi-Pattern:
Plain and simple, bi-pattern is the way to go. We climbed on an Icon Double Dry that was not a bi-pattern. Nick had middle marked it though. But I definitely prefer the bi-pattern when there is a good amount of rappelling or if I find myself stitching pitches together.

Multi Pitch:
On our first climb in Black Velvet Canyon was an easy multi pitch climb. When I got to the first set of bolts and set my anchor I began pulling the rope up and that was when I noticed how light the rope really was. Most of the time hauling the rope up feels like an endless task. This was effortless and I didn't feel like I just hauled 35-40 meters of rope up. For long multi pitch days, this 9.1mm is the way to go.

Long Approaches:
Since yours truly has a low clearance Ford Focus, driving the rough dirt/rock road into Black Velvet Canyon became a bit tough so we ended up finding a spot, and parking the car. Then we hoofed it the 2 miles to the trail head. Having a 9.1mm rope that only weights 55g/m made the approach a lot more enjoyable than if we had a rope in the 65-75g/m range. So if you have a long approach, this is the rope to look at.

All in all, if you're looking for an awesome lightweight rope, the Blue Water Icon Double Dry 9.1mm is the rope to go with.

Shoot me an email anytime you have questions!

Jared D.
Expert Gearhead
801.736.4336
jdowns@backcountry.com
From the Manufacturers Mouth
Watch more features about this rope from David Long the sales manager (and head of customer service) at BlueWater.



Read the story behind how the Icon (and 9.3mm Wave) were created at: http://blog.weighmyrack.com/bluewaters-skinny-climbing-ropes-9-1mm-icon-9-3mm-wave/
Light Four Man Mountaineering Protection
Familiarity:

I've put it through the wringer
I grabbed this for a more trusting rope when leading teams of more then two on PNW glaciers. Fast drying and light compared to many others in this size. It is also a rope that many of my friends use while working at RMI Expeditions. I so like this rope that I recently purchased one as a gift to my favorite charity for their yearly Mt. Rainier attempts.
Stoked
Familiarity:

I've used it several times
I grabbed the non-dry treated version of this rope in a 70m. It weighs nothing and its a super soft catch. It's skinny in the belay device but rapping on it is no problem, it grips in the device well and doesn't feel sketchy. It feeds through a gri-gri very well and catches well too. This is a sick rope, feel secure, save weight
The Blue/Green, 60m is $189.95, the...
The Blue/Green, 60m is $189.95, the Blue/Green, 70m is $189.95, the Sprout/Red, 60m is $220.00, the Sprout/Red, 70m is $220.00. It's an obvious mistake - both 60m should be $189.95 and both 70m should be $220.



Anyway, it's a cool option to get a 70m double dry skinny lead rope for $190 + tax + free shipping!
Thanks for the heads up, we'll get our merch team to get this rectified.
Does this rope have a middle mark?
Does this rope have a middle mark?
Sorry, no. Bluewater doesn't do factory middle marks in case someone trims their rope, in which case the mark wouldn't be in the middle any more. It's an unusual policy but that's the deal.
if you don't want to attempt to mark your own, you can order the bi-color and the sheath pattern will change at the midpoint.
Good so far
Gender:

Male

Familiarity:

I've used it several times
I've had about 10 days of ice on this rope so far and it's done very well except in one case. That day it was wet and cold, and the rope froze pretty badly. However, on that day, given the low temperatures and the amount of water blowing on us from an adjacent waterfall I don't think any rope would have made it through without becoming a cable. Most of our other gear froze as well.
Strongest Most Durable 9mm in the WORLD!
In my opinion this is the best lead line in the world today. The perfect balance of weight and durability. I have climbed on so many ropes I could never count them, but this rope is special, like a secret weapon in my quiver. I try to shave weight wherever I can, but other 9mm lead lines I've climbed on felt dicey, and were shredded after a few climbs. Because of the super thick sheath and tight weave on this rope it handles like magic and lasts longer than most ten mils I've climbed on. And I can say from experience that Bluewater has by far the best dry treatment of any rope I've tried. If you factor in that this rope will last much longer and is much stronger and handles better than the competition, there really is no reason to buy any other 9mm lead line. As an added bonus you are supporting a very cool Family owned company that hand inspects every rope and takes pride in making the best ropes out there!
Tommy Caldwell testing the new Icon.