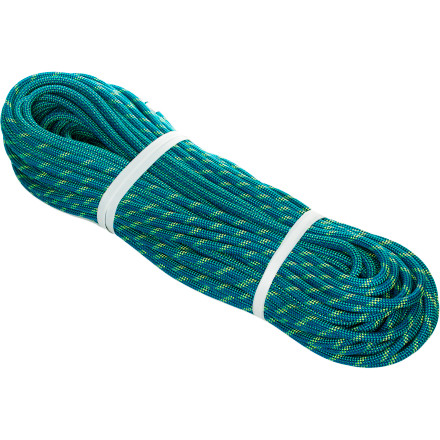 Videos
When Blue Water designers dreamed up the Icon Double Dry Bicolor 9.1mm Climbing Rope, they focused their efforts around providing serious sport climbers with the low weight and small diameter cutting-edge redpoints demand, without making the sacrifice in durability that's typically associated with ultra-skinny ropes. By giving the Icon a super tight braid and a 35% sheath mass, they created a skinny cord that won't hold you back when you're gunning for the chains yet has the durability to stand up to the wear and tear of long-working burns.
Double dry treatment provides smooth and supple handling in wet conditions
Bi-color pattern allows you to be sure you have enough rope to get back on the ground
8.8 KN impact force rating and 32.7% dynamic elongation ensure soft catches when you whip off your project
UIAA fall rating of five ensures the rope has ample strength for redpoint burns
A featherlight 55 grams per meter won't hold you back when you sprint for the chains
35% sheath mass and a tight braid reduces drag and gives this skinny rope increased durability
9.1mm diameter places the Icon among the skinniest single ropes available
Available in 60m and 70m lengths
I was wondering if, since people claim it...
I was wondering if, since people claim it to be so durable, if there is a small possibility that it could be used for top roping, too? I am planning to climb mostly on lead but there is a chance that I might find a hard project I would want to do on top rope first before I attempt to lead it. I know it is an extremely thin single rope, and thicker ropes are generally used for top roping, but just maybe?
9.1mm is a skinny single rope, so although not an ideal choice for top-rope only, it will certainly work in a top-roping setup. One thing to keep in mind, it is harder to generate friction with a skinny rope than a thick one, so catching falls will be harder (top rope, sport, or trad). I would feel comfortable using this rope through top anchors to 'test-run' a sport route.
Best Answer
Another thing to keep in mind is that even if you have no trouble catching falls (which you shouldn't, given the right belay device), it'll still stretch a lot. If it's rigged on an 80-foot route, you'll probably still hit the ground ? gently, albeit ? from ten feet up.
no problem toproping with it. bigger ropes can stretch less or equal amounts. i feel the big issue is durability. a smaller diameter rope has much less surface area; therefore, the wear is more focused and the sheath will wear a lot faster. if you are only planning on using it for occasional topropping, you should be fine.
, ☃bcs_badge_alumni_label☃
Cedar Wright was right on!
Familiarity:

I've put it through the wringer
Read from a professional, the BW Icon Double Dry Bipattern rope is hands down the most durable and steady thin, single rope you'll ever climb on. I have climbed with many a skinny 9.0 ropes before and have never quite felt completely safe on them. The Icon feels like a workhorse 10 mm rope. All the time, in any situation, on any rock. The thicker sheath is the secret weapon for this rope, while still staying light weight and ideal for those redpoints we dream of.
Perfect for redpoints
Familiarity:

I've used it several times
Rope feeds great through both the Grigri2 and Reverso4. This line is perfect for routes where a climber believes they are finally ready to send the route. I would NOT recommend this rope to those looking for an everyday go to for the crag. Overall, this rope is great and I am looking forward to continue using it.
Blue Water Icon Double Dry Bicolor Rope
Tommy Caldwell is BAD ASS!!!
Tommy using the Icon on his 5.14 trad project on the diamond!
Lightest Most Durable 9mm in the WORLD!!
Gender:

Male

Familiarity:

I've put it through the wringer
In my opinion this is the best lead line in the world today. The perfect balance of weight and durability. I have climbed on so many ropes I could never count them, but this rope is special, like a secret weapon in my quiver. I try to shave weight wherever I can, but other 9mm lead lines I've climbed on felt dicey, and were shredded after a few climbs. Because of the super thick sheath and tight weave on this rope it handles like magic and lasts longer than most ten mils I've climbed on. And I can say from experience that Bluewater has by far the best dry treatment of any rope I've tried. If you factor in that this rope will last much longer and is much stronger and handles better than the competition, there really is no reason to buy any other 9mm lead line. As an added bonus you are supporting a very cool Family owned company that hand inspects every rope and takes pride in making the best ropes out there!