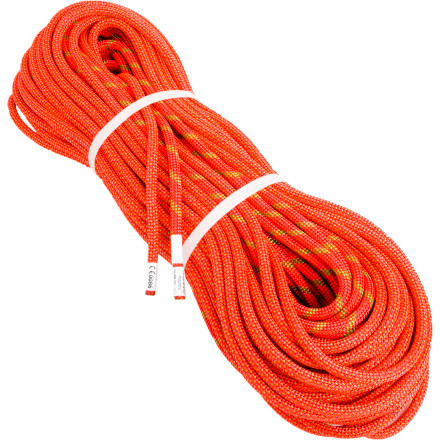 Detail Images
When it's time to go light and fast, uncoil your Blue Water Dominator 9.4mm Double Dry Rope and send the second pitch in record time without sacrificing on safety. Built to tackle your next redpoint or ice project, this rope features a tightly woven, double-pick sheath and is double-dry treated to avoid picking up a bunch of extra water weight. An impact force of 8.29kN means you don't have to worry about absurd g-forces when if crux sends you for a ride.
I have a 30 meter version of this rope that I use for rope teams when alpine climbing and crossing crevasses. It works great. Plenty strong to take a fall or rescue from a crevasse and fairly light. The dry coating keeps it from getting weighed down too much with moisture.
Not just the best ropes but a great company! Check it out!
I love this rope more and more every time I use it. It's going on 3 years old, and is standing up better then I ever could have hoped. It feels and handles great and is super lite. Even if you're just carrying it on your back as a second repel rope, you'll be amazed how much smaller it is then say a 10.2 mm rope. All Blue Water products are tops, I trust them with my life. Everything Cedar said below is true. Good stuff made in the USA.
This is the best rope I have ever used. I swear this thing is more durable then most 10mm ropes I have used, and yet is Significantly lighter.....!!!.... when you get to the end of a 60 meter pitch you will appreciate it. Also, it should be mentioned that BlueWater has the best dry treatment in the industry..... All the fibers are dry treated not just the sheath, so you if you ice, alpine or rain climb..... this is the ROPE!!! Also, an often neglected feature ..... HANDLING. This rope just feeds and feels great. I have literally taken this rope around the world and am of the opinion that it is the best rope in the world. Also, Bluewater is the only American family owned rope company... which is refreshing in this day and age. Every rope is made in America and every inch of every rope they make is inspected by hand.... that's pretty cool, considering this is your LIFELINE.