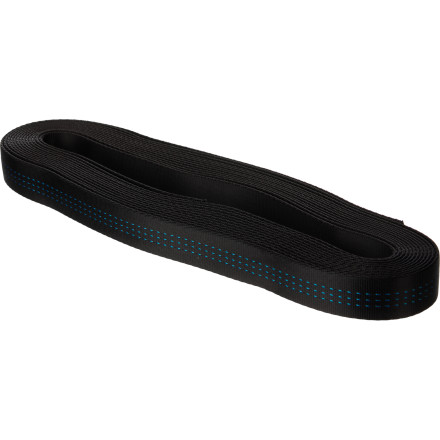 From extra-long slings to anchor systems to a campground slack line, look no further than a 30-foot length of versatile Blue Water Tubular Climb-Spec Webbing. The 1-inch-wide webbing provides superior strength, durability, and flexibility when compared to standard military-spec webbing, making it an ideal choice for climbing applications.
Tubular climb-spec webbing is superior to standard military-spec webbing in terms of strength, flexibility, and durability
High thread count and tight weave pattern increase abrasion resistance
Tensile strength of 4000 pounds makes climb-spec webbing ideal for climbing applications
Webbing
Familiarity:

I've used it several times
A bit heavy and thick, but it does exactly what I need it to do and it's cheap. I bought this so that I could make some slings of varying length from it on a budget. I also use longer pieces of it for anchor building if need be. It's very tough and durable, but tying water knots all over the place is kind of a pain if you ask me, so in retrospect I should have probably just bought some sewn slings/runners, but oh well, this saved me money! I do wish that they sold this stuff in longer lengths. I wanted to use it to do some slack lining too, but obviously 30 ft. if way to short, especially after cutting pieces of it for webbing. All in all though I'm happy with the purchase.
It's webbing...
Familiarity:

I've used it several times
For the most part, webbing is webbing. That being said, this met all of my expectations for a fair price.
Great color option in rust
Familiarity:

I've used it several times
It's hard to get really excited about webbing and for the most part the details that make one piece of webbing better than another are in the specs ...not visually noticeable. In this case, the rust color is great and very nice for the desert surroundings of Southern Utah. Rust color is less noticeable which many people appreciate.
2-Ring Retrievable Anchor
This webbing is super useful for Rock Climbing as well as Canyoneering. See how to use the webbing to to rappel off a natural feature without leaving any behind.
Using Rap Rings for a Retrievable Anchor
Skip to 1:38 to see the rap rings and webbing in use with the retrievable anchor off a rock. No webbing was left in the canyon.