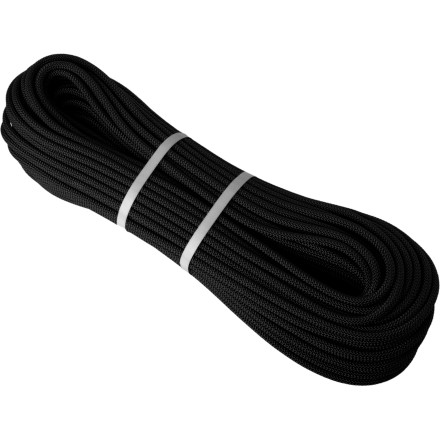 Detail Images
The Blue Water Canyon Rope has become a standard thanks to its obscenely high strength and sub-10mm thickness. A polyester sheath and single-pick construction increases cut resistance, so you can rap without worry.
Polyester sheath increases cut resistance
The 9.2mm thickness packs well for the non-technical sections of the canyon
Not for use when shock loading is a possibility
Share your thoughts
What do you think of the
Blue Water
Canyon Rope - 9.2mm
? Share a...
Will this rope work well as a haul rope...
Will this rope work well as a haul rope for Big Wall Climbing?
Best Answer
Yes you could use it for that purpose.
Can canyon ropes be used for traditional...
Can canyon ropes be used for traditional climbing and mountaineering?
Best Answer
You should never climb on a static rope. Taking a fall on a static rope can be fatal. A dynamic rope is designed to absorb the energy created during a fall in turn decreasing the rate of the fall and it's impact on the climber and gear. Since a static rope does not possess the same characteristics as a dynamic rope the energy that the rope typically absorbs is now left to be absorbed by the climber.

Consider a 180 lb climber on a 60 meter rope falling 4 feet. If the rope is dynamic this fall will produce 4.7 kN of shock force, which is safely within the standard strength of most climbing gear (most carabiners have a closed gate strength of 24 kN). Now let's suppose this same scenario occurrs on a static rope. This would result in a shock force of 9.4 kN being generated. That's double the shock force! By way of comparisson the only piece of protection that Black Diamond makes that is stronger than 10 kN is their four lobe Camalot, and even then the two smallest sizes are not. If such a fall can cause your protective gear to fail, imagine what that force will do to a climber's internal organs.

Here are some snippets taken from the web:

"Do not use static ropes for climbing. Static ropes stretch very little at all (0.5 to 1.5 percent or less). Forces generated in a climbing system can quickly exceed factor 2 if a static rope is used, causing grave (deadly) injuries to the climber and generating forces in the system which exceed the strength of the gear used. (a fall of as little as 4 feet on a static rope can create enough shock load to cause injury, death, or failure of climbing gear). A static rope may be used (cautiously) in a top rope system or a gym where falls are measured only in inches, but not in the system used for lead climbing."

Source: http://www.southeastclimbing.com/faq/faq_fall_factor.htm

"If you are purchasing a rope for general climbing use (top rope, lead climbing etc.) you must have a dynamic climbing rope. Dynamic ropes are designed to absorb the energy of a falling climber, and are usually used as belaying ropes. When a climber falls, the rope stretches, reducing the maximum force experienced by the climber, the belayer, and the equipment.

Static ropes are more durable and resistant to abrasion and cutting than dynamic ropes, but they lack the necessary protection against shock loads produced in a leader fall. Static ropes are designed for rappelling, rescue purposes and technical climbing situations (i.e. Big Walls). If you take a fall on a static rope you risk injury or death (due to high forces). Logic: Force = mass * acceleration => Force = mass * ((change in velocity) / time) => a dynamic rope increases 'time' and therefore decreases force."

Source: http://www.spadout.com/w/climbing-ropes/
Blue Water Canyon Rope - 9.2mm
The Blue Water Canyon Rope - 9.2mm is a great static & canyoneering rope. It has a great hand feel while on rappel and it you treat it right it will be durable for years. The 9.2mm novice/intermediate friendly because it's more durable and better control while on rappel. The best thing about it is the orange color which shows up well in your pictures.