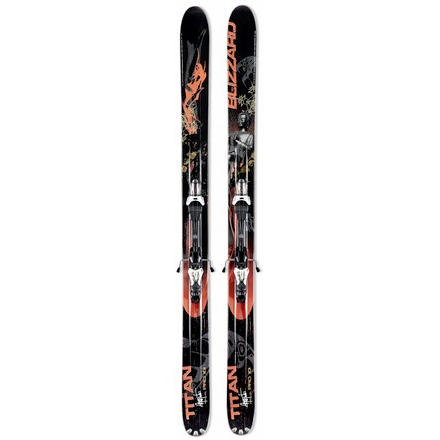 Introducing the Blizzard Titan Kreitler Pro IQ Alpine Ski—fat, stiff, big mountain boards designed by Ken Kreitler himself and hooked up with burly 16 DIN touring bindings. Ski an AK face in five turns, dropping a few cliffs along the way on these titanium-reinforced sticks. The Titan Krieitlers are FAT, with almost no sidecut—great for going mach 10 in bottomless snow conditions. Even better, this version of the Krietler Pro has a secret backcountry bonus. See, the FR 16 Binding is actually the highly sought-after Marker Duke, with a white coat of Blizzard paint. There's no mistaking the snub-nosed toepiece, beefy heel spring, and underfoot touring lever. It may not be the lightest uphill setup out there, but it's got serious big-mountain balls to back it up, so it's a perfect match for these superfortress skis.
Share your thoughts
What do you think of the
Blizzard
Titan Kreitler Pro w/ Duke Binding
? Share a...
can i use these dukes on other skis
can i use these dukes on other skis
No, these Dukes are made specifically for Blizzard and will only work with the IQ system.
are the duke bindings modified to fit the...
are the duke bindings modified to fit the channel of the skis
Yes, the bindings have been modified with an interface for the rails that are built into the ski. Only one screw is required for mounting.
Gotamas. Flat set-up instead of a system ski. More versatile with the twin-tip and way more agile for trees and technical descents. The Titan reminds me of stock car racing; way fast and fun as long as you're not turning much.