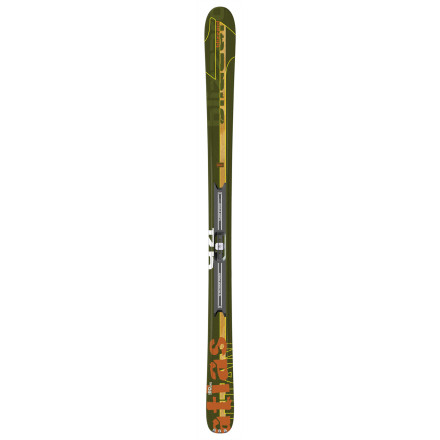 The mid-fat Blizzard Titan Atlas IQ Max Ski with Slider Plant conquers the crud, plays in the pow, and extends your snowy conquest across the entire mountain. An aggressive sidecut and the titanium-reinforced wood core permit quick turns, yet the 94mm underfoot still allows you to open up on smooth to cruddy snow. With the 130mm-wide shovel, powder turns come natural, and the IQ-Max Slider enables you to repeatedly switch between your alpine binding for a touring binding without drilling a bunch of holes into the ski's core.
IQ Max Slider permits 7cm of adjustability for different binder positioning and acts as an interface between the ski and any binding you wish to attach that week; alpine, AT, or telemark
Your binding attaches to the slider and locks easily into place—extra sliders sold separately
A 59mm wide channel in the binding zone (where the slider locks into place) allows quick power transfer to the edges, which means it skis like a skinny ski
The IQ-Max Sandwich Compound Sidewall construction utilizes World Cup racing technology, creating a fast but easy-to-turn ski with excellent edge grip
Where can one find replacement slider...
Where can one find replacement slider plates?
I demoed these skis at Jay Peak. Great reaction in the bumps, plenty of float and maneuverability in the trees (No deep stuff to try them out on), and outright awesome on the groomers. A bit slow to initate on the groomers but I attribute that to the fact that I am coming off a 168 Volkl that turns on a dime. Once engaged these fat boys were as stable as you could possibly want. Fun rde.
Q: 187 or 180 Blizzard Atlas for me: 6'...
Q: 187 or 180 Blizzard Atlas for me: 6' 205# L8/10, using as most-of-the time ski in CO. (Winter Park, Copper, Steamboat, Vail, etc.)

Prefer stability over twitchy, and the 187 is right at head height. Like a mix of groomed, trees, bowls, but am wondering if the 187 would be too much ski. Thanks. JB
I skied the 180cm last weekend on groomed and trees at Jay Peak (6'1" 240# L8/10) and loved them - perfect length coming of 168cm Volkls.
187 for sure... 180 will be fine on groomed but anything off piste will be a little unstable. I'm almost the exact same height and weight and prefer the 187.
I demo'd some 173's in calf-deep pow (then crud later) in CO and they were very stable and quick. I'm 6'2", 198. Bought the 180's for a little extra float. Didn't want the extra 7 cm in the bumps and trees
I'm 6'2", 195. 180's are perfect.
Check our Blizzard's Product Manager, Jed Duke, describing the most innovative product in the ski industry