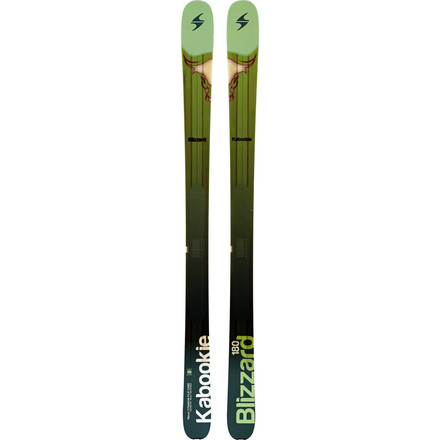 The Kabookie Ski might be the most versatile in Blizzard's lightweight lineup, making it perfect for the backcountry and groomers alike. A rockered tip and tail give this mid-fat ski plenty of flotation in pow and crud, while the strong Flipcore 3D wood core keeps it stable down speedy descents. Comprised of poplar, bamboo, and ISO-wood, the Kabookie's core keeps the weight down and still provides a snappy response while turning. Despite its mid-fat 98-millimeter waist, the Kabookie has a surprising turn radius thanks to the classic camber underfoot and sandwich sidewall construction for powerful edging. So feel free to take the Kabookie anywhere on the mountain, because it'll handle it all.

Tip & tail rocker profile
Classic camber underfoot
Sandwich sidewall construction
Flipcore 3D wood core
98-millimeter waist
I just purchased the new Kabookie ski in a 180 length. Looking to mount my Hammerheads. At 5'10" and 175 lbs, I will be using this setup as my one-ski quiver. Wondering where folks are mounting telemark bindings on this ski? Blizzard provides a recommended alpine boot center line, which when compared to my boot's "pin line on chord center" measurement, results in a pretty close location. I welcome your thoughts, folks! Thank you.



Kevin
Hey Kevin,



What did you decide to do and how are the Kabookies on tele?



Adam
I mounted them boot center on the alpine line. They ski great! Have about six days on them thus far. They turn great and are not super stiff.
Best Answer
Hey Kevin - One review I read about the Kabookies for alpine sounded like they aren't the liveliest ski out there, they skied kind of damp. How do you feel about them for tele?


I really like them for tele. They have an even flex and a moderate side cut. They are a pretty damp ski, which I am a little surprised by given the lack of metal. I highly recommend!
I am looking at the Kabookie or Bonafide for telemark. Kevin, did you look at the Bonafide? Or did you think that was just too stiff for Tele all around? I am 5'10" 155lbs - would either of these models be OK for me in 173 length?
Hi Danp. I never tried the Bonafide because all the reviews indicated that it is a stiffer, harder-charging ski. If I were to buy alpine boards, the Bonafide would be at the top of my list, but for telemark, I felt that the all-wood Kabookie would be a better choice. As for the length, given your weight, I would think that 173 would make sense if you want a nimble, quick-turning ski. The 180 is not a, overly long-feeling ski, though. Just depends on your skiing style.
I would say that the ski has a tuned resonance. many other skis I've compared them to seem harsh and un-refined, as if they can't tune the stiffness. I have Bonafides and Sambas (read Kabookie) and they are both awesome for different days. watch out, Blizzard has variable center lines for male and female models, 4cm difference. watch out!