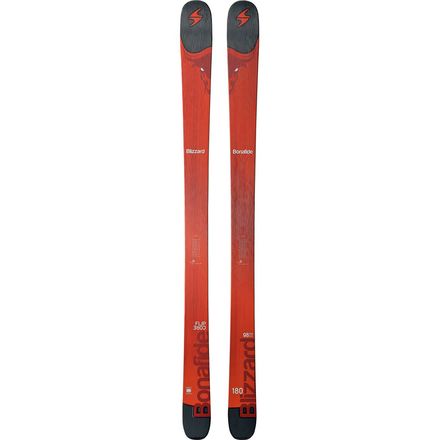 Description
A bona fide daily driver.
The Blizzard Bonafide Ski will easily rip the mountain from top to bottom, whether there's powder, wind-buffed chalk, a thin layer of corn, or bulletproof hardpack. Now with carbon in the tip and tail, this favorite of ski testers everywhere has an even more accessible feel thanks to its Carbon Flip Core technology. 90-degree directional carbon fiber in the tip and tail helps to stabilize the rocker when you're rallying groomers, eliminates tip chatter, and helps to reduce the swing weight of the ski. By giving it a 98mm waist, Blizzard designed the Bonafide to be the most versatile ski in its freeride lineup. Its mid-fat waist and rockered tip and tail offer excellent flotation in the steep and deep and provide easy turn initiation wherever you are on the mountain.
This daily driver tears up groomers, open bowls, crud, bumps, boilerplate ice, and champagne powder with aplomb. Sandwich sidewall construction makes it a precise and powerful turning machine, and a poplar-beech wood core provides smooth and fluid turning. Utilizing its revolutionary Flipcore technology, Blizzard put the Bonafide's core into the mold upside-down, giving the tip and tail a naturally rockered shape rather than weakening the ski's integrity by pressing it into shape as is the case with most rockered skis.
Rockered tip and tail, camber underfoot
Sandwich construction
Compound sidewalls
Carbon Flip Core technology
Poplar-Beech wood core
Ti binding interface
Would this ski be a good touring/backcountry ski?
Best Answer
It could be. It weighs a little more than most touring/backcountry skis but if you value downhill performance over weight then it would be great. If you would rather save some weight check out Blizzard's ZeroG 95 and 108. They're considerably lighter than the Bonafide but still have Blizzard's rock solid edge grip and performance at speed
Hi! I skied the K2 work Stinx for years (tele) and then moved to the K2 Coomback (188). I would like something in the 98 waist range. I am 6'1 195 lbs and ski NTN. What is the recommended size? I would like a shorter ski than my Coomback. Is the bonafide similar to the Coomback, with the advanced rocker, and would I need a similar size?

Thanks,

Bob
Hey Bob,



I am also a tele skier about your size (6'1", 185 lbs.) and I would definitely go with the Bonafide in the 187 cm length. For tele skis I typically like something with a flat tail, like your K2 Coombacks, and the Bonafides have a rockered tail. I still think they would make a good all-mountain tele ski since the carbon fiber reinforcement provides some extra stability but they are going to be stiff compared to your Coombacks.



Feel free to shoot me any more questions about the Bonafides or telemark skiing in general.



Kyle

Expert Gearhead

klivingston@backcountry.com

801-736-4337
Hey Bob -



I have last year's Bonafides in 187 with 22Design Vice binders and wear BD Push boots. It is a super sweet set up - highly recommend it. I am 6'4" and 250 so bigger than you - the two layer metal construction makes it really fun for big and/or aggressive skiers. They carve like fine Austrian steel (!) handle crud with blasters on, and ski very nicely in powder. I do find that the flat stiff tail can get hung up occasionally in bumps and tight spots but it's not a big issue at all. I would imagine that a little tail rocker and carbon could help that. Go for it dude!



Ted F
How much metal does the '16 Bones have? Same as previous years (ie 2x Ti)?
It still has two sheets of metal. The wood core was slightly thinned in the tip to in order to integrate the carbon but the two sheets of metal were retained in their original shape. The carbon was added for structural integrity more so than weight reduction.
Has anyone who's skied the 13/14 or 14/15 model know how they compare to the new 15/16 model. Do they ski much different?
Best Answer
I ski the '13 Bones as my daily driver in Colorado. I skied the '16 Bones at the SIA Show in February. The carbon in the tip and tail make the ski noticeably lighter thus making it easier and more efficient to pivot in trees and bumps. The crud and groomer performance remains top-of-class -- still stable, dependable and smooth. I didn't notice any difference in the light (5-7") powder I took the ski in. Blizzard made a great ski even better.
What model of Bonafide skis are these? The tips and tails are much different than this year's model. Thanks
This is a 2015/16 model! Looks like we are doing a presale on next year's skis.


These are the 15/16 model and they're in inventory right now. Same exact shape as the previous generations of the Bonafide but with new Carbon Flipcore construction. The Carbon is integrated into the rockered sections of the tips and tails. The carbon strengthens those traditionally weaker sections of the ski giving them more stability and better control. The tips initiate easier and the skis are even more calm than they were before. This results in more control and better performance at all speeds. Crushing groomers or chalking steeps at speed or maneuvering through tight trees or icy bumps the new construction improves on a ski that was already considered the benchmark in it's category.
So w/ the carbon flip core essentially the 15/16 Bonafides are lighter and easier to turn?
They have a lower swingweight although the weight has been redistributed more towards the center so the overall weight on the ski is virtually the same. Yes they are easier to turn and will feel more stable on firmer snow and at speed.