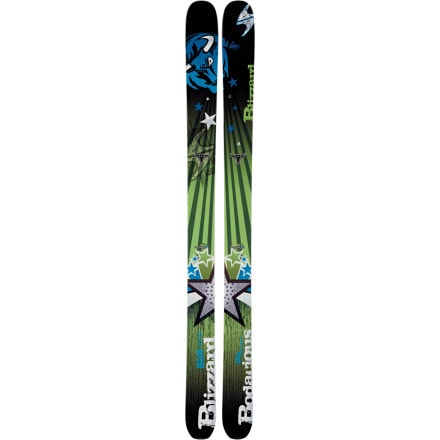 Videos
Description
Big lines, big arcs, no whammies.
The fully rockered Bodacious Ski is Blizzard's fattest board and it has a walloping 32-meter sidecut radius. What does this mean for you? It means ripping high speeds on big lines on big mountains and deep snow. Its means stability when your teeth chatter and snow goes up your nose. And it means shredding until delirium sets in and chomping at the bit to do it all again.

How does it work? Besides the mammoth sidecut, this ski features a Flipcore Natural rocker that literally turns the ski construction on its head. That's right, the ski is actually made upside- down in the mold so the downward-facing convex side forms the natural rocker, without having to bend or artificially shape the ski in a press. The result is incredible natural spring and lightweight floatation in powder, while retaining excellent stability and even pressure distribution. Maybe that's why you can blaze down the mountain with your hair on fire and sparks flying from the tails: it's only natural.

Flipcore Natural rockered profile
Flat underfoot
Sidewall construction
Wood core
118-millimeter waist
Mammoth sidecut radius
Share your thoughts
What do you think of the
Blizzard Bodacious Ski
? Share a...