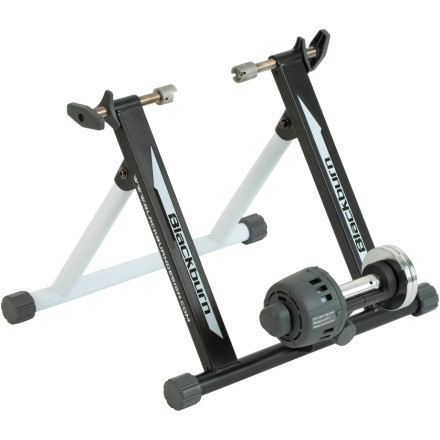 With its lightweight, foldable design and hassle-free operation, the Blackburn Tech Mag 3 Trainer delivers you an easy and affordable way to start training indoors. The Tech Mag 3 features magnetic resistance with three settings that is easy to use and provides superb performance. The trainer has a welded frame made of durable tubular steel and the plastic, non-skid feet micro-adjust to give you a stable platform. And for added convenience, Blackburn designed the Tech Mag 3 to be compact and foldable, so it's easy to store when you're not using it.
Steel frame
The non-skid plastic feet adjust
Wide range of magnetic resistance with 3 settings
Lightweight, foldable design makes it easy to store
Tapered cones fit most dropouts
Steel skewers included
Where can i get the skewer for this?
Where can i get the skewer for this?
We have the LeMond Revolution Skewer (item #LMD000F) Available today.
Pretty solid trainer for the price
Got this for my wife because she doesn't enjoy riding rollers. Seems like a solid unit. It holds the quick release (provided) pretty well. The trainer has three magnetic resistance settings. To be honest these adjustments aren't really necessary provided you aren't a hipster riding a fixie. My only issue is that I occasionally pinch my finger when adjusting the legs. Be advised that you'll also need either a platform for the front wheel or if you are cheap an old dictionary can be sacrificed.