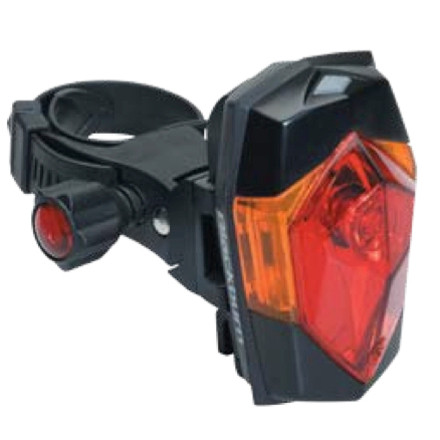 Make sure drivers see you at night—attach Blackburn's most powerful rear flasher light, the Mars 4.0, to your bike. This flashing rear light features a 1-watt bright red LED with a focusing optic lens for max brightness, as well as two amber LEDs that help with lateral visibility. You don't have to get out a screwdriver to change the batteries, and Blackburn included a versatile mounting system with a rack adapter.
This little light puts out an incredible amount of light. Mounts easily to your bike and super-life-saving bright.
THis is a very bright light and is great for safety!
THis is a very bright light and is great for safety!
It is smaller than I expected. And if you look at it when you turn it on you will see stars. Serious light.
Unanswered Question
My question is actually about my blackburn...
My question is actually about my blackburn 2.0 light which I have had for 3years now It needs a replacement Battery cover but I cannot get a hold of Blackburn to order one Anybody withbthe answer can E mail me @ frederick.ybarra@crossmark.com (Plz Help)
With this thing a flashin, I get looks like "why does he have a really annoying flashing light on the back of his bike?" I like those looks a lot better than "I didn't see you, you should get a really annoying flashy light on the back of your bike."

This thing is bright, small, and awesome.
As a two time cross-country cyclist and a commuter, I can say this is the brightest taillight out there. I wouldn't even think about riding at dusk without this on and flashing...and it shows up incredibly well in those crazy midwest storms when the sky turns green and everything's dark and it's pouring.
I know a lot of people have complained that the attachment bracket breaks, but I honestly just use the clip on the light and put it on either my saddle bag or on my backpack. Works great!
I previously used the Mars 3.0 at night and it was bright. I don't ride at night anymore but I picked up the 4.0 for daytime road riding. In daylight, the 1-watt LED is far brighter than the superbright LEDs of the 3.0 or other lights. Definitely a tool for daytime riders.
After debating on which tail light to buy, I chose the Mars 4.0. I see many lights out there but this one is by far one of the brightest. Lets just say if you had to you could attach it to the front in an emergency and it would provide enough light to creep home with at night. The only thing I'm not to keen on is that the light will slide out from the bracket however it tends to not lock in the best so I'm afraid I might lose the light. Pros is 20 hours on blinking mode, 2 on constant.
I've used many taillights over the last few years, and find this model to be my favorite. The 1-watt LED is amazingly bright, and friends who've passed me while riding have indicated that the light is much more visible than most riders they've passed.
My favorite use for this light is actually on my road bike during daylight hours. Whether it's overcast, or a time of day with long shadows cast, this baby goes a long way in keeping me visible and safe!
The rear lights are great, however it has a week rear mount. It breaks so easy and difficult to find.
Does anybody have the same problem.
Does anybody have the same problem.
With entropy? Yea, we all do!

Try and find the older model Mars 3 I think, More lens (why they decreased this, I don't know), doesn't suck batteries nor prone to break its tab. It is has been waterproof all winter- my 24 Hr team use them exclusively, and the last race was ALL water.

Tweak: Yes it is the Mars 3, and my input does not help you tolano, sorry. I'd go to blackburn via your place of purchase for a replacement light; doubt seriously that just the clip could be replaced.
As for -what i would think- the evolution of this particular line of light could be, I don't know. A change to a main 1 watt LED, plus two lesser ambers doesn't improve anything, and it might lower its run capacity. Remember, the Mars 3 with a total of seven led's was already incredibly bright because of great optic design. In the pit many people would ask to please turn it off cuz it caused near epileptic distraction. As a commute light I never worry about the batt's- it is very conservative, and the visibility range is far out. Dude.
A rear light is always a "cheap" purchase as bike accessories go, but don't be frugal. If the Mars 4 runs long- great, and many here already declare how bright it is. It is a perfect size for what it does, and to the price of a safety item is comparatively super cheap. I have drawer full of tailights that failed in one way or another. When I found the Mars, I bought a handful to cover my many bikes, to prevent forgetting just "one", and be able to leave the attachment when switching around.
Write your question here...the rear plastic...
Write your question here...the rear plastic mount broke off for the mars 2.0, can it be replaced.
Yes. Call 800-969-4476 they should be able to send you a new piece or replace with a new model. No charge. Blackburn has the best warranty in the business.
Bright, Handy, and Multi-Functional.. With New Batteries.
Love the light. Rain and wind haven't yet managed to compromise the water-proof light housing, and I love the portability. It comes off when I park, or when I need it to clip to my bags and walk to work in the rain.

I feel safer with the 4.0, which is key.

Side-facing LEDs are a bit of a novelty, not very visible, and somewhat dwarfed by the 1W in the main face.

Highly compatible with any mounting solution--bolted right onto my rear rack, no problem.

One thing: stock batteries were basically shot, light output was 35% or so on receipt. Probably a floor model (It's a "test me!" package), and my silly fault for not swapping sooner.
not the smallest or lightest light on the market, but this thing is seriously bright!
At 1 watt, what else could you ask for. Just be careful when turning on/off the light...its BRIGHT!!!
are they water resistant?
are they water resistant?
I don't see anything specific stating such on the Mars light but they are well sealed and are very water resistant and can be left in the rain fine. Blackburn lights have a lifetime warranty on the lights also which helps.