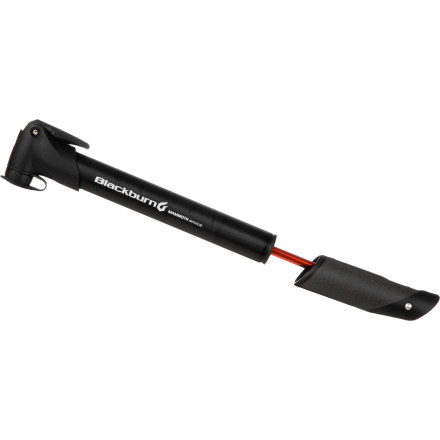 Colors
Description
Mammoth pumps, mini package
The Blackburn Mammoth AnyValve Pump takes the guesswork out of which adapter goes where. The reason is because there are no adapters to choose from with the Blackburn AnyValve Head which automatically adjusts to fit Presta, Schrader or Dunlop. SO, it's easy to figure it out. The Mammoth weighs just 157 grams and features a rubberized folding T-handle for a solid grip and easy pumping without the extra effort, and Blackburn's lifetime warranty means it may be the last pump you ever buy.
Good leverage
Familiarity:

I've used it several times
The extra leverage of the t-handle and the volume are great! For on the go this works great. There is a rubber gasket in the opening where the valve goes that desintegrated in a couple uses, but it did not affect the performance; not really sure its purpose (used pump on schrader valves)
It's a Pump
Familiarity:

I've used it several times
When you need air, you need air. This pump is simple and compact. It's a slightly higher volume pump than several others on the market, but it still takes a while to get a road tire up to 100psi. This pump is covered by Blackburn's lifetime warranty, so you know you will be taken care of should the pump fail.
Excellent pump for the price.
Familiarity:

I've put it through the wringer
This thing is a little larger than some might prefer for a frame-mounted pump, but it works great, and the bottle cage mount keeps it out of the way.
Excellent Pump!
Familiarity:

I've put it through the wringer
I've used an old Mammoth for years, and it has been a GREAT pump! Crossed the Andes three times with it. The new mammoth is as sturdy and reliable as the old one. High pressure and high volume are a must. Construction feels much stronger. Only complaint may be weight, and of course this is a very minor complaint, since i value pressure and volume first. I am using it as my std ROAD pump also. The added grams (shaved at much great expense on the bike), are easily fogiven when you need it.
the gold standard
Familiarity:

I've put it through the wringer
this is the standard pump by which all other pumps can be measured.



high volume, comfortable handle. not the lightest pump on the market - a few additional grams is what it costs to have a pump that actually works.



Could use a flexible hose like some of the newer pumps out there, but if you're breaking valve stems, you're doing it wrong.



Warning about other pumps - don't buy pumps that screw on to the valve stem. They risk pulling presta valve cores out when you unscrew the pump! Use lever-lock pumps like this one instead.
Good enough, but....
Familiarity:

I've used it several times
This pump is good in a pinch. If you get a flat on the side of the road, and need something to pump it up, this is perfect. It is small enough to keep in a backpack, and makes life easy in that regard. However, this does not replace floor pump by any means. The max PSI on this pump is only 90, which is good enough, but pumping by hand, it can get hard to pump near the top end. Also, this pump does not have a PSI gauge on it, so it can be hard to tell if its pumped enough.
I have the Blackburn Airstik 2 Stage pump, the smaller sibling to this one, but my roommate has the Mammoth and I end up borrowing hers ALL THE TIME. It's a little bit bigger and heavier, but the addition of the collapsible handle makes all the difference when you're trying to fill an entire tube up, or even just top it off. (I will never forget that time when I got a flat about 6 miles away from a trailhead in either direction and spent ~30 mins furiously pumping the Airstik, only to get a pinch flat a few miles later. wah waahh..) Also seems to connect to the valve stem better than the Airstik... and it's 10 bucks cheaper.
A pump is kind of like a helmet...
Familiarity:

I've used it several times
you take it along but you don't want to have to use it. Well I've had to use this pump and it works. The folding handle provides good support for the hand and the large volume pumps up a 2.35 tire pretty quickly.
great packable pump
Familiarity:

I've put it through the wringer
This pump is a handy little fellow that is lightweight and perfect to have when mountain biking. The fact that the handle flips out and gives you extra leverage really speeds of the efficiency of fixing a flat tire on a ride. It locks into place really well. It's better than any other packable pump I've used on rides. I haven't had the plastic adapter break like the other gentleman's review below, maybe that's a yet though. We actually got this pump for my husband and I took it over because it was so much easier and better than mine. He can suffer with the not-as-easy pump when he gets a flat.. :)
Get Pumped up!
Familiarity:

I gave it as a gift but have feedback to share
This pump has worked well for me, on the few occasions where I have needed it to pump a freshly patched tire it has done the job. The handle feels surprisingly sturdy when you are pumping air into the tire near higher PSI's, so you dont feel like you are going to break the pump by torquing too hard. One complaint- the included presta-shrader adapter is plastic and cheap, it ended up breaking after a couple uses and was replaced by a metal one, so dont plan on having the one that comes with the pump as a definite solution FYI
Lightweight
Familiarity:

I've used it several times
This is a really nice lightweight pump to take with you when mountain biking. It doesn't take up a lot of space and fits nicely in your pack. You won't even remember your carrying a bike pump. It fits Presta, Schrader and Dunlop valves which is awesome. I probably wouldn't bring it on my road bike because it would be tough to pump up a road bike tire with this.
Road bikes/ Mtn Bikes
Gender:

Male

Familiarity:

I've used it several times
I purchased this pump for my wife because she bought a road bike but had no way to inflate the continental tires. The traditional pumps did not work, but this pump works great, and I have started using it for my mountain bike. It easily attaches to the bike allowing you to have insurance for low tires anywhere.