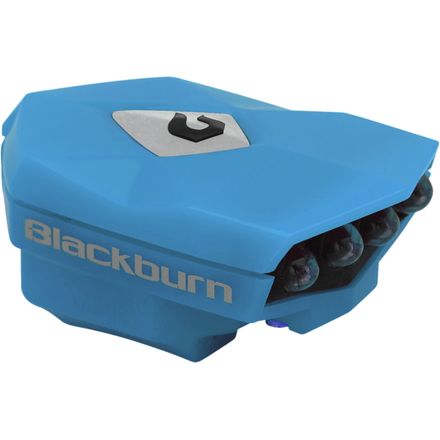 Community Images
Description
Bright enough to see em' coming
Finally, you can worry less about getting run over on your ride home from work. The Blackburn Flea 2.0 Front Light hits traffic with 40 lumens from four super-bright White Nichia LED's so the rest of the world is out of excuses for putting you in the hospital. The Flea 2.0 comes with a USB charger, a compact mounting system, and it can run continuously for three hours on a charge.
Share your thoughts
What do you think of the
Blackburn
Flea 2.0 USB Light - Front
? Share a...
Flea the scene
Familiarity:

I've put it through the wringer
This is a great little light. So small and compact. I always take it with me. It has saved me numerous times getting caught out after dark. The flea is bright enough to light your way as long as you aren't going too fast. I wouldn't use off road or in areas with excessive potholes or bombing down any hills. The flea is more of a be seen light. It works great for that. It is plenty bright and don't worry about being seen, especially on flash mode. The rechargeable battery is a nice feature for a light this small. You do have to use a separate proprietary recharger. It is small and extremely light, but you do have to remember to bring it, and hope it doesn't get lost. The handlebar strap has some silicone type material on it to help the light stay in place and not spin on the handlebar. This worked great until the silicone wore off. The strap still works I just have to make sure it is nice and tight so it doesn't spin. The on/off button lights up when you first turn it on and right after you turn it off to indicate the battery life. Green, orange, and red. I don't know how much life each indicates. For me green means I am good to go. Orange means I need to charge. Red means I need to get where I am going quick. I also usually change it to blinking when I get to red to conserve the battery. The light has 3 modes, bright, not as bright, and flash. I really couldn't ask for anything more. The charger is a little but of an annoyance. I wish it was built in, but that would make the light much bigger. My first flea I had went through the wash and died. It is so small I didn't even notice it was in there. I liked the light so much I bought another. I've had it for a couple of years and it keeps on rocking. I don't leave on my bike without it.
From Work to the Bar
Familiarity:

I've put it through the wringer
This light is perfect for short commutes either to work, the trail, or the bar. Or in whatever order you wish to put those in. USB Charger is very convenient to plug into the computer for an hour or even over night.
Unanswered Question
Looking for lights for my Bell Muni bicycle...
Looking for lights for my Bell Muni bicycle helmet

eciechanowski@yahoo.com
It's really nice to be able to charge this in any USB. Super bright and great battery life so far.
How does it mount on the bicycle and is...
How does it mount on the bicycle and is it easy to put on and remove for a older child and teenager?
It attaches with a Velcro strap around your handlebar or seatpost. The inside of the strap has some type of gel that helps keep it from rotating on your bars, but I found that that gum strip is coming off. I purchased both a front and rear light. Very small, charges with the included USB adapter. Seems bright enough. I use the flashing mode to attract attention.
Has any one had problems with their lights...
Has any one had problems with their lights not wanting to charge? I have two, and for some reason they quit charging. Really liked the lights until this problem occurred. i haven't had them for very long and as far as i know they haven't been damaged in any way.
Hi Chase- I've had a few minor problems, but the lights are warranted for life, and the customer service at Blackburn has been great!
what do the colored lights mean on top of...
what do the colored lights mean on top of the light? is there a green for fully charged? i had yellow and now have red and it's working.
Green: 75-100% battery, yellow (which really looks like a weaker red): 25-75%, and red: 0-25%
When it says flea it is fo real! This thing is tiny but gives out huge light. It be blindin' fools. I like the slick way of recharging by plugging into a USB port and then through two magnetic contact points the power is transferred back to this rechargeable battery light. Good one!