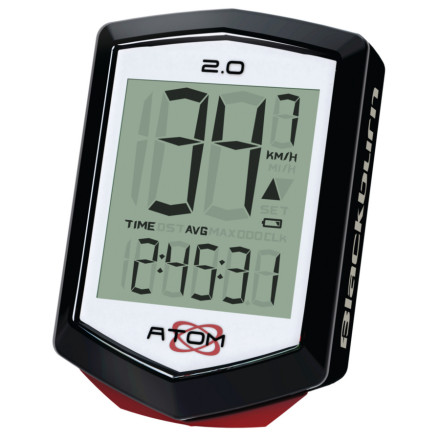 Ever wonder what your top speed is on that harrowing descent? How about the length of your favorite ride? Answer these questions and more with the tech-packed Blackburn Atom 2.0 Cycling Computer. The universal bar mount lets you put the Atom 2.0 on everything from your grom's big wheel to the café-racer moto project that has sat dormant in your garage for ten years.
Ride time, speed, average speed, max speed, trip distance, total distance, 12/24hr clock, battery life indicator

Unanswered Question
what is the difference between a wireless...
what is the difference between a wireless computer and other type
Simple and works great, I like the fact that it has an option to mount to the stem. I do not like the way the magnet mounts to the spokes. It has the cheap 1 screw 1 spoke mount, kept moving on rough trails. I replaced it with a 2 spoke magnet from an old unit I saved.
Well, this wasn't what I expected on the performance side of things. Sure it looks good and the large buttons on the bottom are easy to use, but I have to say I was disappointed with the rest. The accuracy just seems way unreliable and completely off. I took the time to set it up step by step with all the correct measurements and it let me down. Lets start with the speed. Apparently I can go 0-9 mph in half a second uphill, NOT! Next the odometer. Apparently I have the power to ride 1.2 miles in 3 minutes while being in my living room and my bike completely stationary in the basement.....spooky. I must admit the clock does work, so if you dont like watches or carry a cell phone like the rest of the world, then here is your clock.

-Update-

Gave this thing another shot. Reset it completely again and for whatever reason it appears to be doing its job correctly now. Still not giving it the green light yet though.
Big performance for the budget minded
For 25 bucks you can't beat it, it does everything it should and with no hassles. I threw it together in about ten minutes and was riding like a champ! It does feel it bit cheap and "plasticky" But hey for 25 bones what do you expect?