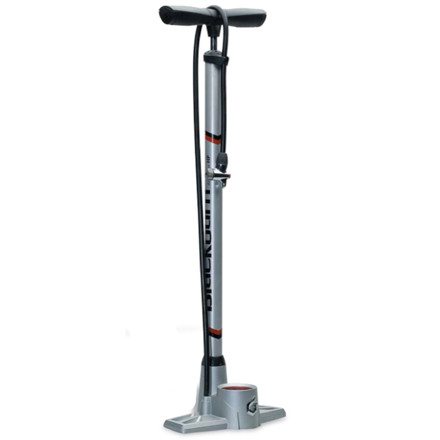 The bigot in us loved that our old floor pump came with a Presta-only head. With a brass chuck and simple rubber internals, it was easy to use. Our buddies with cheap bikes that had schrader valves wouldn't get anything if they walked away with it. It's this prejudice that rears up when we look at the Blackburn AirTower HP Pump.
It has a beautiful, aluminum Presta-specific chuck. Unlike our old Silca, this one is self-energizing and has a release button and bleed valve. It means you neither have to push it on hard, nor is it tough to pull from the valve stem when you're done. And with the bleed valve, you can make fractional adjustments without removing the chuck to dial your pressures to perfection. Easy peasy, as a friend used to say.
A beautiful chuck is nice, and if you've seen the old Campagnolo steel head for Silca Impero frame pumps, you know what they can look like. But as with the old Silca, the head isn't everything. It's a good thing the Blackburn has everything else -- a stable aluminum base, a high volume aluminum barrel, an easy to read oversized gauge, and another nicety, a long hose. The wide handle has storage drawers inside for small items like inflation needles or a disc wheel adapter.
To give you a sense of how the pump works on a tire, a 700x23 Continental tubular went from flat to 120psi in 14 strokes.
The Blackburn AirTower HP stows away nicely when the hose is wrapped around the top of the handle and is cinched down. The max pressure is 220psi, and it has a lifetime warranty. The claimed weight is 1555g.
Best everyday pump
Familiarity:

I've put it through the wringer
This is the best everyday pump I've used. Never fails, never pops tubes, never any surprises. Probably will have it forever. I think once I changed the little thing inside for a few bucks.
What valve stems does this work on? I have...
What valve stems does this work on? I have both kinds (one on my mtn bike and another on my road bike)
Hey shari,



Thanks for the question. The Blackburn Air Tower HP Pump has a Presta valve head only and will not work with Schrader valves. However, the Lezyne CNC Travel Drive Floor Pump will work for both valves and has a similar price range.
I have no problems like the previous reviewer. The gauge has a little arrow doodad indicator thing that you can set, just pump until you hit that mark then stop. I also have no problems with removing the presta only push on valve chuck. Just hold the tube valve with one hand and pull off the chuck with the other. I've never lost any air. The barrel length is long, it takes me about 25-30 strokes to inflate a 700x25 tire. All the Blackburn pumps I have ever owned eventfully go south and by the time they do (3-4 years) the parts are not available any longer. Other than that, it's a floor pump, gets air into your tires.
Can this pump be used for car or light...
Can this pump be used for car or light truck tires.
AL.
What valve stems does this work on? I have both kinds (one on my mtn bike and another on my road bike)
I actually used it once for my car to pump it up to 35 PSI. Not easy and not intended, but it worked.
Don't Bother With This One
Unlike the previous reviewer, I did buy this new for 2009 pump. Unfortunately it has been a huge disappointment.

The gauge is extremely hard to see, even close up. For the lb. markings it's got dark gray lines on a black background with tiny numbers - go figure, especially since it's all the way at the bottom of the pump.

I had high hopes for the presta specific head, but turns out it sucks. It's almost impossible to remove the head without letting air out because of the bleed valve setup. I asked Blackburn support about this but they were clueless on the phone and then never returned my emails. I had to remove the bleed valve internals so I could get the head off without loosing all the air. This turns the bleed valve into a pressure release (mentioned in the Blackburn description but no where in the instructions nor did anyone at Blackburn seem to know about this) which should make the pump head easier to remove. But even with the pressure released, it's way too hard to remove the head from the valve. This means you will periodically tear your valves off. Just what you want right before a ride.

It does pump well, but it's a floor pump, they all pump well. I really did want to like this pump but it's all about the pump head and the gauge. Both of which suck on this pump.

Needless to say the pump's going back.
let me tell you, this is the best pump you can buy. I have had mine for 10 years and now am ready to buy the new hp, go out and get one today, you want be sorry!!!!!!!!!!!!!! Thanks for building an absolutely great product. bmx racer for 10 years (profile xxl)