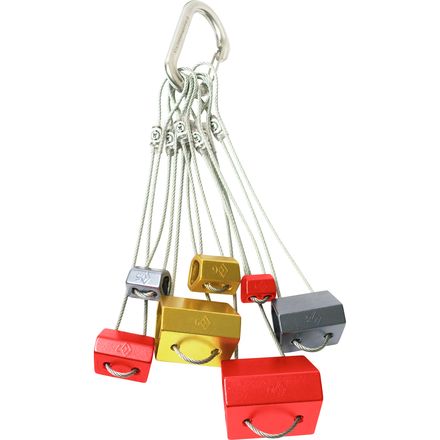 Community Images
Description
The Hexentric's eccentric shape allows it to fit 4 different crack configurations, offering just the placement you need where other devices fall short.
Introduced in 1971, this timeless form of pro has retained its relevance as the most versatile, inexpensive protection available to climbers. Their unique hexagonal design allows a Hexentric to fit four different crack configurations. This means that a Hex has a comparable range to a similarly sized camming unit, but is lighter and doesn't cost a king's ransom. Extremely easy to place, a Hex can provide surprisingly reassuring placements in terrain where other camming devices fall short. This set comes with Black Diamond Hexes #4 through #10. SET INCLUDES BLACK DIAMOND OVALWIRE CARABINER.
bomber pro
Familiarity:

I've used it once or twice and have initial impressions
Always expanding my trad rack and I love these cowbells. Not much to say that hasn't been said. cheaper than cams if you need to leave behind some gear or to get some extra pieces for that section of crack on your new project that seems to eat up big gear. personally I like the wire on these.
I went with these over the w.c. rockcentrics because of the wire sling. works great for sharp edges
Get Wild Country Rock-centrics or better yet DMM Torque Nuts
The dyneema slings on the Wild Country and DMM Hexes make a huge difference. I have the Torque nuts and my friends have some rockcentrics and the BD hexes. We never take the BD hexes. This is a bit of an exaggeration, but imagine using a tricam in active mode that is on a wire instead of a nylon or dyneema sling, it is kind of the same with a hex.
what about # 1-#3??? why don't you guys...
what about # 1-#3??? why don't you guys sell those?
1-3 are not sold as sets by Black Diamond. They can be individually ordered here http://www.backcountry.com/black-diamond-wired-hexentrics?rr=t&cmp_id=&rrType=ClickCP&rrProd=BLD0830
These hexes are killer. They protect such a wide variety of sizes, and are very worth it for the non crux areas, where a bomber, and less expensive placement will do excellently. I have always had a set of these, and find them indispensable
I bought these when putting together a starter rack on the advice of a guide for climbing a particular area of Northern California. When the set came in, I was surprised at how big these suckers were. I knew they had the potential to replace a larger (up to 3" w/#10) cams, but the size and strength of these peices really made me believe it. The wires make them a little stiff to place in every situation, but when you can make them work you know you've got a solid peice of pro. The #10 is my go to peice for a bomber anchor when I can fit it in the system. For beginning climbers, check the tech specs (sizes) on http://www.blackdiamondequipment.com/en-us/shop/climb/protection/wired-hexentricr-nut-set-no-4-10 so you know what sizes to get for your particular rack configuration. I didn't see the sizes listed on BC.com so here they are for reference:
Dimensions :
20.6/27.9 mm, 0.81/1.10 in (size 4)
23.9/33 mm, 0.94/1.30 in (size 5)
27.2/39.1 mm, 1.07/1.54 in (size 6)
33/45.7 mm, 1.30/1.80 in (size 7)
39.1/54.1 mm, 1.54/2.13 in (size 8)
47/63.7 mm, 1.85/2.51 in (size 9)
55.6/75.2 mm, 2.19/2.96 in (size 10)
Write your question here...How long is...
Write your question here...How long is this set on sale?
With the goat you never know so BUY NOW! But all that aside I believe its part of the Memorial Day sale so i would think till Monday. Use Chat now and they can be really helpful.
A great way to extent the evective width of your rack without haveing the shell out the bones for some large cams. I end up using more of the small sizes(4-6) but have found some bomber placements using the #10(really inspiring some confidents).
how good are the b/d wired hexes. any...
how good are the b/d wired hexes. any brands better
Best Answer
They are great, i have been using them for a while and they are great, but with that being said if you are looking for something cheaper there are alot of people who make them. Also there hexes, the technology has kind of "cruxed" so to speak. The real thing you want to look at is do you want your hexes wired or slung?