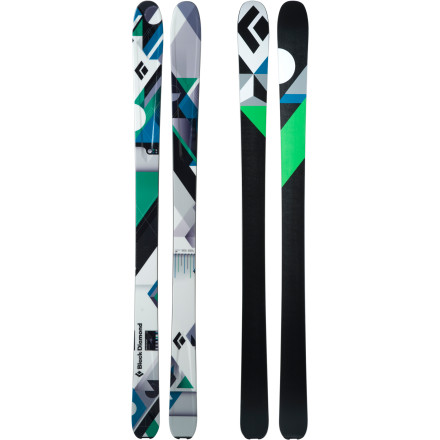 Boasting 3D sandwich construction, a full-length traditional camber, and a snappy wood core, the Black Diamond Warrant Ski is as agile as it is versatile. From tight couloirs to narrow trees to open bowls, the Warrant's 95mm underfoot and aggressive sidecut deliver rampant smiles and excessive giggles with each lightning-fast and precise turn.
Full-length traditional camber delivers exceptional control, turnability, and edge-grip on hardpack snow
3D sandwich construction features a tapered ABS sidewall for improved durability and greater dampening at high speeds
Poplar wood core saves weight and maximizes energy return
Dual Torsion Bow tech utilizes two ribs to deliver power to the skis edges and maintain torsional rigidity
Share your thoughts
What do you think of the
Black Diamond
Warrant Ski
? Share a...
Unanswered Question
Im 6'2 155 and 16 years old I live in ID...
Im 6'2 155 and 16 years old I live in ID would this be a good tee ski. I have powder downhill skis but want a nice tele setup. What do you think. And what size shoul I get. I'm a very good skier
not for hard pack
Familiarity:

I've put it through the wringer
I am a ski patrol and ski mostly in ski resorts (telemark). I find the Warrant responds well in bumps and soft snow. But as soon as you get into a hard packed steep fall line, the skis does not respond well at all. The tips vibrate at high speeds on hard surfaces. Definely for backcountry and very disapointing if you want to hit the slopes of your local ski resort. I am changing them because they are not versatile enough. This is a very soft ski with no lateral torsion resistance.
OK experts, I need your opinion on these....
OK experts, I need your opinion on these. I'm NW (Oregon)-based, looking for an all-around upgrade from my aging K2 Super Stinx (yes, I'm a dinosaur). I demo'd a pair of Verdicts last year, and they were a dream in the front/sidecountry. I'm mostly a weekend-warrior skiing whatever the NW slings at its resorts (crud, occasional heavy powder, very occasional genuine powder), and looking for a single all-around ski that will also work for occasional backcountry trips.

How does this ski compare to the Verdict? And is it versatile enough to be my only pair?

thanks!
I'm in OR , as well. I would personally go with the Verdicts since they have a rocker. This gives you more options in the occasional powder, and helps with the crud busting. They're also slightly wider underfoot to give you some more float. Id say they're easily a 1 ski quiver in the NW. Mount them with something like the Salomon Guardian/Atomic Tracker and youve got something that will ski great in bounds, and let you get into the backcountry for shorter trips.
Help - Warrant vs Revert...
Hello everyone...
Help - Warrant vs Revert...
Hello everyone - I ski on the BD Megawatts with Fritschie Freeride Pros for pow and use the older K2 Seth Viscious with Baron's as my all mountain ski. The K2s are far too heavy beyong slack country and I am looking for a lighter yet all round solution for laid back touring as well as staying in bounds and coming across likely crude, crust, and bumps. So in an ideal world, the Drift and then the Warrant make the most sense but I need to find the best possible solution encompassing both these skis. Is the Revert the right choice for this? I live outside of Zurich and can tour from my backyard for reggae turns but also like to explore the terrains of La Grave, Hokkaido, and Whistler on semi-annual trips. The advice is much appreiated and thanks very much!
The warrant is heavy. I'd call it an inbounds or slackcountry-only ski. The revert is about a pound lighter but a totally different ski. The Revert is a mini fun shaped ski, so if you like a soft-flexing jib ski, you'll like the revert. If you like a stiffer ski for going forward and that does better at speed and for carving, you'll like something like the Warrant. For me, the G3 Zenoxide fits the bill of being an all-mountain, lightweight touring ski that can handle any condition.
http://www.backcountry.com/g3-zenoxide-fat-ski
how would this ski do in powder
how would this ski do in powder
Best Answer
Hi Jakob - I would say this ski is a bit of all-rounder with a slant towards non-deep snow conditions. It is a traditional camber, so BD has not put an early rise or rocker tip on this ski to aid in flotation. That being said, it is 95mm at the waist and once upon a time that was an almost unfathomably huge waist dimension. So in the hands of a good skier the Warrant will be a fine powder ski, but if that is your primary goal and you like Black Diamond, I would look at the Revert for a narrower ski that does great in pow or the Zealot for a big powder board.
These resemble the VOLKL MANTRA ski specs......
These resemble the VOLKL MANTRA ski specs... the gold standard of the all in one...

Anyone know if this ski approaches that level of adaptability (backcountry/sidecountry/frontside)? Of course I am not looking for deep-pow slayer or a GS turner... but a aggressive all-in-one ski.

I plan to ski these with a tech-binding and a 110 flex index boot (as well a 90 flex light-tour boot).

Have my eye on one of these: BD Verdict, BD Warrent, G3 Tonic, G3 Infidel, or the Volkl Mantra... anyone want to chime in?
Hi DoubleB - I've been on the Verdict, Warrant, Tonic and Mantra. All of those are pretty different, but for an all round ski with a tech binding my choice is... none of the above - I went for the Zenoxide and you can read my review here:
http://www.backcountry.com/g3-zenoxide-fat-ski

However, if you are set on those skis, I like the Tonic and the Mantra, and the extra dampness and power in the Mantra outweighs the weight penalty in my view. The tonic was like a Mantra that didn't charge quite as hard. The BD skis, to me, were missing an early rise tip for deeper days although they (the Verdict, specifically) would be the first option if I was only touring on spring corn or icy mank.
Thx! Good to know... hard to decide these days so many skis that overlap... I even gazed upon the K2 Hardside...

I love G3 skis... and I want to give BD another chance (disappointed in the Orange Verdict)... I have my eye on the G3 Tonic or Infidel, the BD Warrent or Justice, or the K2 Hardside... I can get a discount through my connections and unfortunately cant get a sweet deal on the Mantra... so I may buy two skis from those I mentioned.

Your opinion is greatly valued!!! Making me think hard about the Tonics!

Anyone out there with additional recommendations?

I ski East Coast exclusively and will mount these with a tech binding (G3 Onyx).
Havocs are back!
Gender:

Male

Familiarity:

I've put it through the wringer
If you like BD Havocs, these are the ski for you. They are slightly heavier than most out of bounds skis but are perfect for carving and have an unbeatable turn radius. A little thin for powder, but they still have the flotation that is needed to look good in drifts. These skis are not as specialized as most BD skis, but are what you want if you need a top of the line ski that you can depend on any day or condition during the year.
I am looking at these skis for next year...
I am looking at these skis for next year and was wondering what people's opinions are on them. I tele in Vermont were we have a bunch of ice and carving is crucial but spend 6 days in CO every year where we usually get at least one dump of a foot or more. I am looking for a ski that can carve like nobody's buisness yet float pretty well. Would the full camber and 95 underfoot achieve this? Also, does anyone know if a smaller guy, (5,8'', 110 Lbs) be able to get this ski around at 168 or is it pretty stiff?

Any responses welcome, thanks!
My BC partner has these skiis w/ dynafits, so, can't help you with tele...but he seems to really love them. He skiis 178's and he is 5'9" an 150lbs. You would have no prblem with the weight range on 168's.
As for the float and carving you are pretty much covered they rock all-mountain.
I demoed these with O1 bindings and they're nothing to special, for this price range there are a lot of other skis that are more playful. They do have a nice torsional stiffness and would be a decent ski for one quiver. The skis are just dull and really have no spring or pop to get excited about. Wait for them on Steep and Cheap.