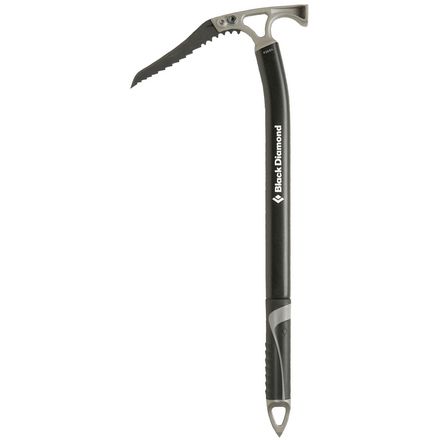 Colors

Videos

Community Images
Description
The best of both worlds.
A long snow route with a couple pitches of ice is the hardest type of climbing for which to select an appropriate tool. It used to be that you could either have a good ice tool that sucks for self-arrest or a standard ice axe that can barely climb a pitch of easy ice. Not anymore. Black Diamond designed the Venom Ice Axe to self-arrest and plunge into the snow easily but still offer good ice performance.
Ideal counterpart to your ice axe on a mountaineering trip
The interchangeable, classically curved pick is designed to provide solid placements while ice climbing as well as to self-arrest securely
The Venom's slight bend at the top of the shaft increases vertical performance without sacrificing the ability to plant the shaft in the snow
Replaceable pick can be re-sharpened after each trip
An ideal alpine leash, the Lockdown, is included with this versatile axe
Axe quiver
Familiarity:

I've used it several times
This is definitely a quiver axe. For those looking for a standard Piolet to use as a walking cane on glaciers this probably isn't the best option as it is a little bit heavier and will only help you balance on the steepest of terrain. But for ski mountaineering and general steep ascents this tool works great! The bend in the shaft definitely makes it more friendly in technical terrain. For sure not a full on ice tool but could help you get through some sticky terrain. In terms of weight I am happy with where it comes in at as it helps drive in snow pickets quickly and efficiently. I'd recommend for those looking to expand their ice axe quiver to something for more technical climbs.
Heavier than a piolet but more useful
Familiarity:

I've used it once or twice and have initial impressions
This axe isn't useful as a cane. Unless you're much, much shorter, you're not going to be leaning on it as you climb anything but the steepest slopes. It's a utility axe. It'll serve as a self-arrest mechanism, as an anchor, as a means of creating anchors or hammering them in (if you have the hammer). But it's just not quite going to reach the ground on a climb. That's not what I bought if for though. I have a 74cm piolet. I wanted this to do the above and have a different resource for the occasions when it is dictated (e.g., there isn't a guide doing all th work for me).
It is a heavier tool, but the tradeoff in utility is worth it. And the replaceable pick means it'll pass down to your kids and their kids.
So for a versatile size, measure the distance between the tip of your middle finger while at your side and the malleolus of your ankle. This will provide the most versatile size for you.



If you intend to be on steeper terrain mostly, then you can use a shorter axe, if you are going to be on more moderate flatter terrain then a longer axe will suit you better.



You can call or email me directly. 801-736-6398, or bporreca@backcountry.com
Hybrid tool FTW!
Familiarity:

I've put it through the wringer
I really like this tool. It works great for small mixed climbs and is light enough that it there is a chance i'll need two tools i'll grab this one. The only reason I didn't give it five starts is because I think it needs a finger grib like the Petzl Sum'Tec. Other then that this is my go to hybrid tool. I would recommend it for anyone seeking a hybrid tool
Nice little tool to have on some steeper routes, but nothing overly technical. Not too heavy, but sturdy. Does everything I need it to do.
How well does this axe work on pure ice...
How well does this axe work on pure ice (WI???)? Could I use it for alpine ice one day, then recreational ice climbing the next?

I am looking for an all around tool that doesn't empty my pockets.

Thanks!
Best Answer
If you're planning to an even amount of both look for something a bit more technical than the Venom. I have used it for both alpine travel and ice climbing. It will do both for sure, its not the most ideal for long bouts of ice climbing though. For that I would suggest a technical tool.

I have used the Venom and one of my petzl quarks combo before with pleasant results. Hope this helped!
Thanks Reid! I ended up shelling out the dough for the quarks, and I am glad that I did. The quarks work right in the range I wanted.
You're welcome.

Those are an awesome tool. Having a ice axe is good for glaciers, I just got a BD Raven for that. Cheap and sturdy. Cheers!
Kip Garre using two BD Venoms
Kip using Venoms in Antarctica.
Black Diamond Venom Hammer
Venom Hammer
Gender:

Male

Familiarity:

I've put it through the wringer
Not aways my first choice to bring on a trip but definitely good to add to the quiver. nice for snow routes where you consider not bringing an axe but might need to pound something or if you run into a slight bulge of ice. Not something I would particularly want to climb serious ice with but there are climbers out there way better than I who easily could. Grip is nice, leash works well, and the picks are easy enough to change if you have the tool though I prefer the bolt heads on the cobras for tightening in the field.
Jake Norton shows us his favorite ice ax
from Whittaker Mountaineering
Kim Havell about to top out on the Chevy Couloir on the way to skiing the Grand Teton, which she climbed using Venom ice tools.
This thing rocks! I was looking for an axe that I could use for self arrest but would also work well on some semi steep ice/snow, and the venom does the trick. Seriously, you can't go wrong having this tool with ya.
Like many have said before. When you have a pair they really add up in weight department. Other than the weight this is a sold tool.
I thought this must somehow suck because it's so much cheaper than many others in its class but it doesn't. It's sharp, aggressive and a valuable tool. I bought this as a compliment to my long ax for more classic alpine climbing and used it on Mt. Hood's Old Chute yesterday. I would have been significantly less happy without it. I am 6' and I got the 50c which feels plenty long for what I want it for.