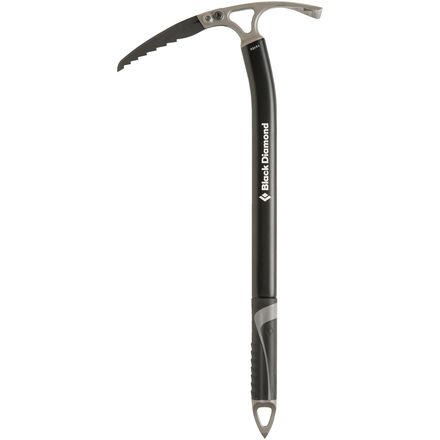 Colors

Videos

Community Images
Description
Truly the best of both worlds.
A long snow route with a couple pitches of ice is the hardest type of climbing for which to select an appropriate tool. It used to be that you could either have a good ice tool that sucks for self-arrest or a standard ice axe that can barely climb a pitch of easy ice. Not anymore. Black Diamond designed the Venom Ice Axe to self-arrest and plunge into the snow easily but still offer good ice performance.
Hybrid design bridges the gap between ice axes and ice tools
Ideal counterpart to your ice axe on a mountaineering trip
The interchangeable, classically curved pick is designed to provide solid placements while ice climbing as well as to self-arrest securely
The Venom's slight bend at the top of the shaft increases vertical performance without sacrificing the ability to plant the shaft in the snow
An ideal alpine leash, the Lockdown, is included with this versatile axe
Replaceable pick for a longer life
Bent upper shaft helps you clear bulges
Share your thoughts
What do you think of the
Black Diamond
Venom Adze Ice Axe
? Share a...
Best Answer
So for a versatile size, measure the distance between the tip of your middle finger while at your side and the malleolus of your ankle. This will provide the most versatile size for you.

If you intend to be on steeper terrain mostly, then you can use a shorter axe, if you are going to be on more moderate flatter terrain then a longer axe will suit you better.

You can call or email me directly. 801-736-6398, or bporreca@backcountry.com
Tough
Familiarity:

I've put it through the wringer
Super tough axe, I beat it up pretty well. Great for more technical climbs beyond my standard raven axe. Not too heavy either.
Black Diamond Venom Adze Ice Axe
Looking for a set of tools mainly for ski...
Looking for a set of tools mainly for ski mountaineering but would like to use them for ice climbing as well (maybe 5 times a year on easy WI routes). Venom adze and hammer tools seem like the way to go. My question is: should I throw down on the tech picks, or will the standard picks be fine for the occassional pitch of water ice.
I'd say you'll be fine with the standard picks for the time being. I've used these for more or less what you are describing for over the last few years and haven't felt the need for the tech picks.
Love this axe...
Gender:

Male

Familiarity:

I've put it through the wringer
Adze with a tech pick. Love it, beat the living daylights out of it and it's still good to go. Fairly light but still tough.
Kim Havell climbing the Chevy Couloir on the Grand Teton with one hammer Venom and one adze Venom ice tool.
Stettner Couloir - Grand Teton
Renan Ozturk belays Jimmy Chin up the Stettner Couloir on the Grand Teton while his Venom Hammer is stuck in the ice near the bottom of the photo.
This thing rocks! I was looking for an axe that I could use for self arrest but would also work well on some semi steep ice/snow, and the venom does the trick. Seriously, you can't go wrong having this tool with ya.
How do I know what length to get?
How do I know what length to get?
go to a shop and hold an axe in your dominante hand the axe should hang about an 1/2 to an inch from level ground.
Best Answer
Wrong (well, sort of)...
An ice axe is more than a walking cane, although people do use it that way - when a trekking pole would probably serve better. The critical use for an ice axe in general mountaineering is in self-arrest. The typical answer for a mountaineering axe is a length when grasped from the head to no longer than to your ankle bone. I am 5-11 and have a 65cm Raven Pro that comes to my ankle. It's been fine for me on stuff like Rainier, but is a bit unwieldly for steeper hard snow and mixed terrain.

The steeper the slope and more technical its use, the shorter it should be. Imagine crossing a steep traverse with it to the uphill side, or placing it in front as you climb.

If your use is snow walking on relatively gentle slopes, particularly on soft snow, a longer axe will do, although it may actually be more difficult to use in self arrest.

The Venom is intended as a crossover for somewhat more technical uses on steeper slopes. That is why it is available only in shorter lengths of 50cm to 64cm.

If the intended use is not particularly technical (i.e. actually using the pick in front of you as a tool to climb the steeps), you should maybe consider something lighter. If you look at say the BD Raven Pro, you will find it actually comes in lengths that will reach the floor if that is what you want, but is much lighter.

Check out this link for awesome advice. http://www.outdoorgearlab.com/Ice-Axe-Reviews/buying-advice
Actually the proper way to size an ice axe is to hold it in either hand, relax your shoulders and stand up straight, and letting it hang from your hand, the bottom spike should be reach down to around your ankle.
I bought the venom axe in both the adze and hammer, and so far they are amazing! Ive used them on more technical terrain and the adze axe as more of a mountaineering tool, and they perform very well. The adze axe is quite difficult to use on vertical ice, but its obviously not made for that, however it does perform amazingly when self arresting. these axes also are great on up to 45 degree ice. I would definately recommend this tool to any alpine climber.
Umm, I know that this axe is designed for...
Umm, I know that this axe is designed for being an all-around ice ax. But I have heard that a axe like a grievel airtech racing or a camp nanotech wold work better is this true?
Best Answer
At that point its brand preference
I have a BD mountaineering axe and Grivel Ice Tools and cant complain about either one. You wont be disappointed with the outstanding quality of the BD
Looking at buying an ice axe mainly for...
Looking at buying an ice axe mainly for trips into the backcountry, it appears the BD Venom is a great axe for this type of work, but what dictates the correct length?
You want your ice axe to reach the ground from your arm hanging normally at your side. That way when you are on a slope you can easily gain traction with it, but not so long that it is clumsy and hard to work with. Go long if between sizes.
Best Answer
I kept it short for easy of use, I can still plunge the handle of the 50 CM on steep climbs. Pays off when you're carrying a lot of gear.
Would getting this in the same length as...
Would getting this in the same length as my raven pro (65mm) negate the benefit of having a hybrid (slightly curved) shaft?
No, the curved shaft just places the shaft at a better, more comfortable, angle.
Best Answer
Let me see if I can answer this and see if it helps you out- Overall, no, so if you're using it for mostly booting it up a lot of varying pitches without a lot of steep/vert/hard ice/snow, get the 64cm. If you do have a lot of the above conditions, you'll use less energy and get a better swing and purchase with the 57cm. The 50cm is going to be even better in those conditions, but I think you'll find its overall uses too limited for your height if you're already using a 65cm Raven comfortably. Hope that's about what you were looking for.
Thanks for the input. Much appreciated.
Used these on my last trip. Length really depends on what conditions you're in, I had 57's and wish I had the 50's just for better plunging in not so deep snow. Also shorter length would help on steeper slopes for using the pick. My first time using something other than ice specific axes. These are very light and felt better using a leash with them than not. The step up with these compared to a snow tool is the slight bend and the fact that you can replace the pick. I would say light ice use/more snow use. Tools have changed so much since my last experience it was fun to give them a go, nice tool!
Negative. It is B-rated. Black Diamond's website: http://www.blackdiamondequipment.com/en-us/shop/climb/ice-axes-piolets/venom
How would you compare the new Petzl Sum'tec...
How would you compare the new Petzl Sum'tec to the Venom? The Sum'tec has a spike and a movable hand rest and was wondering if this might make it an improved option over the Venom. Any thoughts?
I've been wondering the same thing, so I'll throw in my two cents. Haven't used either, so take this with a grain of salt.

At 50 cm the Venom is 4 ounces lighter than the 52 cm Sum'tec. It's a 19% weight difference which I think is reasonable to distribute across all the other lengths, though I can't find data on the weight of longer Venoms. If you adjust for the 4% difference in lengths, it ends up being a 16% difference. That seems fairly significant, especially when we're talking about a quarter-pound and above.

Also, this seems like the sort of axe you would always use with a leash. So while a hand rest is nice for comfort and finger protection, it is hardly necessary.
The removable finger rest seems like another thing to lose\worry about while on the hill. I was torn between the 2 as well. I went with the venom and am not complaining. I like that I can use it quickly without having to adjust the finger rest when conditions change I have to use it to plunge vs swinging. Both are great tools, Jacon is right, one does weigh more. Good Luck!
Best alpine/high altitude tool.
I think the only tool that compares to the BD Venom for technical alpine climbs or for high altitude mountaineering, is the Petzl Aztarex- mainly because nothing compares with these two tools for their lighter weight. But during such climbs- especially those with long sections of steep snow- the Venom excels over the Aztarex for a few reasons, but one in particular: it plunges well. The Venom also climbs through technical sections and mixed terrain with great balance and feel- even on vertical and bullet-hard ice- but MOST importantly it climbs securely in steep snow due to a smooth grip/shaft transition and a sharp spike, which is key for self-belay and anchoring. Other tools with molded handles and finger supports do not plunge well, and the Aztarex has a hollow, open shaft which fills up with snow. I've tried and compared many tools from all major brands, and for weight, durability, climbing versatility, leash, and interchangeable picks, nothing currently on the market compares with Venom for alpine climbing. Make sure to buy the Tech Picks, unless you intend to climb only snow- and then you should go for an even lighter tool than the Venom.For climbs with longer hard technical sections or difficult mixed climbing, I prefer the Black Diamond Cobra.
This tool makes a good set of tools for general mountaineering where you might encounter steep snow and frozen snow and can still handle low angle water ice if needed. The later being more difficult due to the leashes more than anything else. If they made a leashless kit like the one on the bd vipers, that would be great.