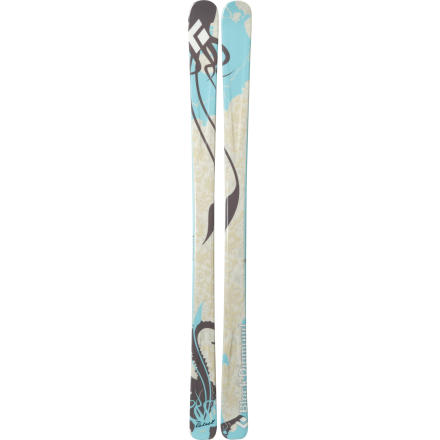 For turn-intensive ski mountaineering or days spent ripping up the hardpack, the Black Diamond Women's Velvet Ski gives you the same torsional stiffness as the boys with a longitudinal flex designed just for the ladies. The svelte 88mm waist makes for hard carving and quick turning while still giving you enough width to make the most of a pow day.
Dual Torsion Bow uses two internal ribs to distribute weight along the length of the ski
Double Torsion Box construction wraps core like a burrito for torsional power and added pop
Poplar core with foam stringers gives ladies a lighter swing weight and a slightly softer flex
I learned how to ski on the older 2009 model of the Black Diamond velvets. I am 5"10 160lbs and I rode the 175cm length. The ski is a great ski to learn on and even for those intermediates. As I progressed in skiing I got more and more aggressive in my style and there definitely is a speed limit on the ski but for the most part it can dish out hard but still be gentle when you want it to be. For the price back country is selling this ski at, by it as a spare or for second ski to tour with! It rode very well when paired with some Dynafits Radicals!
Good skis for making telemark turns
Great skis! I'm 5'7" weigh about 130lbs I skied the 175 length. I ski at lift served areas with a little back country or hiking thrown in. I am fairly dynamic skiier but as mentioned in the review i do make tele turns. That is where these skis are great! All last ski season I tried to ski the G3 Jams but while i could make alpine turns on them they did not really hold in a tele turn for me. I really liked the velvets in pack and powder. Glad i found them on sale!!
Unanswered Question
REquires short skins for the uphill?
REquires short skins for the uphill?
I'm looking to chase after my kids at the...
I'm looking to chase after my kids at the resort and want to take some fun tele turns doing it. Ski suggestions? Thanks!
I have the same question, but want a ski that I can use for tele days all my own:)
Best Answer
Id go for these the k2 shes piste or the g3 jam.
Efficient Power Technology: Inside Black Diamond skis design and construction.
Our freeride skis are designed for the modern skier who demands maximum performance with no limitations. Watch this video as Thomas Laakso, our Ski Line Category Director, details the design philosophy and construction technologies used in our skis.

what is the difference between the velvets...
what is the difference between the velvets and the joules?
The Joule is wider, which makes it better in the powder. The Velvet is a great mid-width option, which will do just fine in powder as well, but isn't quite as wide underfoot.
Velvet is also way softer than the Joule. Pretty forgiving flex. I was just in the store flexing both of them (shopping for the wife).
How does this ski compare to the BD Voodoo?...
How does this ski compare to the BD Voodoo? Seems to be just about the same ski... (graphics aside)
It's about the same ski, but because it is tailored to women, it has a slightly softer, rounder flex, and it does not come in a 185 length. I think the Voodoo might be a little lighter, too.