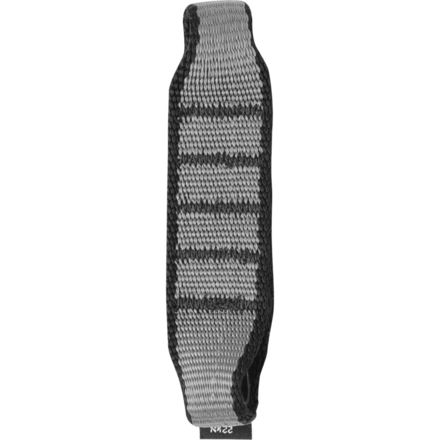 Colors

Community Images
Description
The carabiner connection.
Build up some quickdraws with the Black Diamond Vari-width Dogbone for project-worthy durability and light weight. This tapered, sewn dogbone features a beefy design that won't weigh down your rack, as well as a rubber Straitjacket insert to keep the bottom carabiner properly oriented.
Feels good and looks good too
Familiarity:

I've used it several times
Preferred the feel to my old thin bd dog bones. It held up to my expectations of a normal draw. (Secured the rope beiner for easy clipping, held a fall) I've only used them on a few climbs so I cannot comment much on durability but they have held up well so far.
perfect
Familiarity:

I've put it through the wringer
stiff and sturdy. they are easy to clip
Big dogbone
Familiarity:

I've put it through the wringer
I needed to find a dogbone to use with a couple of Black Diamond RockLocks. And this dogbone did the job. It fits 2 full size rocklocks perfectly. These things are burly. My pitbull got a hold of one once and couldn't tear it apart. After 3 days I finally threw it away. All in all a great dogbone.
BD Vari-width vs. Petzl Express
Familiarity:

I've used it several times
Petzl is thinner through the body, but the material is a tighter weave (not as floppy). Wider BD body compensates for looser weave, both are about as stiff. On the 17cm version of the BD, the tacking doesn't go down as far, so you get a lot of play from the bolt biner. I like the Petzl more, and they cost the same
Get the job done
Familiarity:

I've used it several times
These are nice slings, get the job done just fine. They don't twist, they're wide, good for clipping in, and they look good, no frills at all. Given that they are the same price as the Petzl Express sling, I'd probably go with the Petzl, as I prefer the rubber piece that keeps the rope side biner in place. It's easier to insert a biner into the Petzl. Both work and look good, Petzl wins by a hair for ease of use.
Great for Anchors
Familiarity:

I've used it once or twice and have initial impressions
I have two 18cm dogbones with BD positrons for my anchors and they work flawlessly. The rubber end keeps to rope-side 'biners in position while the loose ends let the anchors pivot well. Seem to hold up great to some tough granite. A great buy!
Strong, Substantial, Easy to grab
Love nylon dog bones- so much less twisting than the dyneema versions that it's worth the extra weight. I use the 18's for anchors with a couple locking biners.
This thing doesnt twist... I use the Mammut Bionic Evo curved for my bolt end and Wild Country Helium for rope. I can't stop getting compliments on this set up. With this dog bone, i never have to worry about it ever turning on me and stays put
I have the Livewire quickdraws, so these come with those draws. The width is great for sport climbing and they dont twist. Yes they are a little heavier than the thin dynex ones. But i would choose these over the dynex any day. I have 8 of the 12cm, 2 of the 18cm. and 2 of the 25cm. The 18cm isnt sewed at the top, so the 'biner can slide around and drop and can get weird on the harness. Other than that great dogbones.
Love the thickness, sturdy and a neutral color. What more can you ask for? Buy 'em!
Love how solid these guys are on the rock! Makes clipping a breeze. Not as light as the dynex but the extra width and weight helps prevent unwanted twisting.
These are great. The variety of sizes makes putting together a rack of draws really easy. I especially love the long 25 cm size. I don't have many, but they're great for reducing rope drag. Also great to grab when you're pumped out.
Does it fit to non Black Diamonds biners...
Does it fit to non Black Diamonds biners too? For egz Wild Country Nitro? (the rubber insert wont be too big?)
Nope, it'll be fine. Mix and match as you please.
Best draw out there by far. beefy, and stable. you can go for clip when your completely thrutched, and have confidence your draw wont be swinging in the breeze. may be a LITTLE heavier then a dynex draw, but they will last a lot longer.
These are my dogbone of choice for sport climbing for two reasons: 1. they keep the draw flat to the rock and which in turn prevents accidentally backclipping when your draw has a twist in it. 2. they are easy to grab. I definitely have a little bit of added confidence when grabbing for these when I am pumped out of my mind and need to grab the draw to clip. I prefer a skinnier and lighter dogbone for trad and alpine climbing.
These draws are awesome, they stay put, don't twist, they're easy to clip. The skinny dynex draws are great too but they'll twist and swing unlike these beefy draws.
I'm so glad these are available, the dynex dogbones are just way too skinny in my opinion and seem twist twist around way too often, especially when you going for a really crucial clip. These Vari-Width Dogbones are awesome and just the right thickness to stay exactly where I want them.