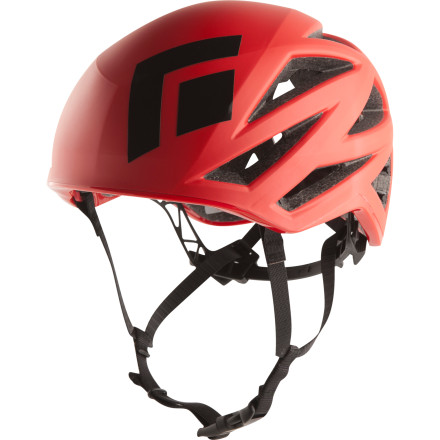 Colors

Videos

Community Images
Description
You'll forget you're even wearing it.
Whether you're clipping bolts in Maple Canyon, Utah or navigating through seldom-traveled trad pitches, strap on the ultralight Black Diamond Vapor Helmet for tough head protection. The low-profile design and featherlight weight of under seven ounces make it easy to forget you're even wearing a helmet. Plus, the geometric vents provide ample air-flow for hot summer days at the crag.
A low-profile polycarbonate shell and co-molded EPS foam lining allows the Vapor to weigh in at under seven ounces
Ratchet with molded push buttons allows you to adjust the helmet for a perfect fit
Geometric shaped vents provide maximum air-flow without compromising impact resistance
Headlamp clips can be removed to shave additional weight from the helmet
The nicest thing about this helmet is that it is very light and has a low profile. Before I purchased this I owned the Half Dome helmet. I felt like I was always hitting my head on things as it sits a little bit off the top of your head. The Vapor seems to fit my head better and doesn't slide around. The only advice I'll give for it though is don't drop your pack on it. Since it is so lightweight it would possibly break if you smashed it into the ground hard.
Great Helmet
Familiarity:

I've used it several times
I am really happy with my Vapor helmet! I was really nervous to pull the trigger and purchase it but I am really glad I did! This helmet breathes better than I ever expected which is great for climbing on those hot days. It is also extremely light, more so than I would have expected.

My helmet does have a few dings here and there from my hike up the tetons in Idaho, but it does exactly what it says it does and the actua helmet is still in great condition as the dings are just very minor.

The head adjustment can be sort of weird to get used to as I have always had the knob adjustment in back. Although it is slightly easier with the knob, the Vapor's method of adjustment is still very easy and I actually like it better overall, especially considering it still only takes a matter of seconds to adjust.

This helmet is very comfortable (much due to how lightweight it is). and sometimes i didn't even realize it was still on my head.


Not for use in areas w/high rock fall?
Familiarity:

I returned this product before using it
Fits great, comfortable, super light, looks good but sticker inside of helmet says "Not for use in situations having significant rock fall..." Isn't a helmet to protect #1 from rock fall and #2 from banging head when we fall? I want a helmet that does both. This helmet seems to do only #2 but maybe I'm missing something? I returned it.
You'll never notice it until you need it
Incredibly light, great fit that does not shift on your head, low profile fits well under hoods, and venting is perfect for hot days. The only thing which will tip you off that you have a helmet on is that when you sweat a lot the cushion on your forehead will stay damp (no way to avoid that), otherwise it's like not wearing a helmet at all.



The foam and shell are actually noticeably thinner than the BD vector. Even knowing the shell had kevlar material I was skeptical of it's impact protection on the back. Last weekend I unfortunately was able to test it's level of protection, but thankfully it performed perfectly. I was leading a moderate pitch just before our bivy and took a lead fall that dropped me on to lower angle terrain (piece was slung long for drag). When my feet hit I was knocked backwards and smacked my head on the left rear portion of the helmet. The shell and foam crumpled, but I came out of it just fine. We bivied and completed the route the next day with nothing more than some bruises to my body and ego. I think in terms of protection from impact the new foam helmets are load better than the old plastic buckets. I'll definitely be picking up another vapor.
Finally one that fits
Familiarity:

I've used it several times
What to say about this helmet that hasn't been said already? Well for starts, its the first climbing helmet that I feel fits me.

Going through the gambit of "one size fits everybody else" helmets out there I'd actually started wearing my bike helmet on alpine climbs and splitboard mountaineering.

I have higher crown and so lot of helmets sit too high on my head.

The fit is similar to the Vector but its deeper, sitting lower on the forehead and at the base of the skull.

Pros are its major light, to the point I've forgotten its on until I looked in the rearview mirror..

Its very breathable and thus nice to wear on approaches where pack space is limited. Also lowprofile enough to fit under most hoods. As well as google straps can go over it like a ski helmet.

Cons are well, its light, could easily be broken if sat on or smashed in the back of a car\pack. that place right into long term durability. So far so good.


I have the BD Vector helmet and have been very happy with it. However, the helmet seems to take up a lot of space while zipped into a hood; almost too much space that when fully zipped, it's a very tight fit. The actual circumference/height of the helmet seems rather large & I was wondering if the Vapor is any smaller size-wise? Does anyone have any direct comparisons??
The vapor is the lowest profile helmet I am aware of. I had the same problem with my vector, it was retired to cragging duty. I have climbed with the hood of my windshirt over the vapor comfortably and my puffy up at belays.
saves the noggin
Familiarity:

I've put it through the wringer
love the fit and weight, breathable and hardly know its on.
Feels like its not even there.
Familiarity:

I've used it several times
Besides the sweat that builds up in any helmet you will not notice this thing a top you're head. I like how the adjustable back strap hides in the helmet when you are storing it, makes packing it way easier. Ive used it biking, in a pinch when it was the only thing in my car. Wouldnt expect it to really protect in a huge crash but, definitely would protect small rock fall and things like that though.
Low Profile and Non-Noticable
Familiarity:

I've used it several times
I'm digging this helmet a ton. Just wish there were some better color options.



Sizing:

My dome is pretty awkward but the S/M fits great. It's nice having the range of head sizes that can work with it especially if I'm at the crag and a friend needs to protect their melon for a quick pitch.



Adjustability:

The adjustable ratchet in the rear is awesome. It's super easy to size up and down. Usually when I put it on I adjust it to my head and when I take it off I loosen it up at the rear first, then I undo the regular strap first. I'm curious to see the durability of the ratchet but so far I'm really enjoying it.



Weight:

This is a light weight helmet. When I'm on a route I don't notice it is there and the low profile is nice too. I only notice the helmet once I take it off because usually it's filled with sweat.



Versatility:

So this helmet is one that I foresee me using for many activities. Right now I've been using it for rock climbing but I can totally see me using it this up coming winter for a variety of things.



Protection:

I'm not expecting this to hold up in a crash or fall the way a thicker helmet would, but I am more comfortable with the EPS foam that I am a plastic shelled lid such as the BDE Half Dome or other similar helmets.



Jared D.

Gearhead

800.409.4502 ext 4055
Nothing about this Helmet sucks
Familiarity:

I've put it through the wringer
I have a bit of a long face, and when a helmet does not fit right I look weird. and the #1 rule of climbing is sexy first right!? Well... not falling to your death might be #1 but sexy first is a close runner up :)



I love the look and feel of this helmet. Its light, breathable, and fits your head so well it feels like its a part of you, not some mushroom living on the top of your head. I have used it with ski goggles and it fits great! it breaths well enough you can wear it on the way up while touring for added safety.



I also love that the cradle will fit up inside the helmet so it does not snag on stuff when you put it in and out of your pack. And I do not think I will ever be so concerned with weight that I remove the headlamp clips to shave grams but its cool they are removable.


It's light! Good for rando racing.
Familiarity:

I've put it through the wringer
It is light - probably not the most durable. A pretty amazing step up from my old plastic helmet. Got it to try to stay a bit cooler for skimo races and it seems to work well. Much less noticeable, the strap system is comfortable, and ski goggles can be easily attached w/ gorilla tape or zip ties.
Unanswered Question
Can anyone compare the fit of this with...
Can anyone compare the fit of this with say Smith, Giro helmets? I wear large in those, and can't find a climbing helmet that even gets close. Can we request that BD and Mammut make one more size up?