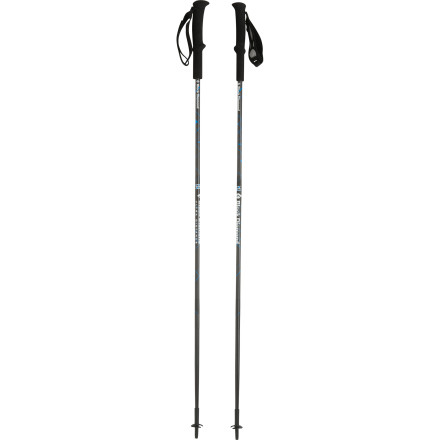 Colors

Videos

Community Images
Description
Easy to pack and light as a feather.
When fast and light is the name of the game, grab the Black Diamond Ultra Distance Trekking Pole. The 100% carbon fiber construction provides an ultralight weight of just a half pound per pair, and the compact three-section design collapses to just 15 inches long for easy packing. Plus, the innovative Z-Pole system allows you to collapse or assemble the poles almost instantly, helping you maintain a quick pace for trail runs or summit-in-a-day adventures.

100% carbon fiber construction provides durability and a ultralight weight of just over a half pound per pair
Z-Pole speed cone deployment uses an interior KEVLAR® cord which allows you to instantly assemble the three-section pole by pulling the grip and first shaft section away from each other
Z-Pole system allows you to collapse the pole with a single push of a button
Collapsed length of just 15.7 inches (for the 120cm pole) provides compact packing
Includes a stopper basket with shaft catcher for securing pole sections
EVA foam grips with moisture-wicking straps provide all day comfort and support
EVA mini-grip extension allows you to quickly choke-up on the pole on steep sections of trail
Includes both Flex Tech carbide tips and rubber
Pole does not have a fitting for snow or powder baskets
When will you have more sizes in stock? Thanks!
Unfortunately it looks like we do not have any more sizes on order at this time! Give us a call or chat in if you'd like recommendations for alternative items!
Ok, no worries. Thanks, Laura!
It sells in pair or single?
Hey Patrick,



They are sold as a pair.
Superb pole for ultrarunning
Familiarity:

I've put it through the wringer
Transitioning back to ultrarunning in Europe I knew that village starts quickly give way to ridiculously steep climbs where every gram counts. These poles provide the stability needed for racing and running high above treeline on exposed rocky faces with the collapsible lightweight option to pack them when cruising the rollers through the trees. While I would not recommend them for fully loaded backpacking they are strong enough for a quick alpine ascents.
Super Light
Familiarity:

I've put it through the wringer
I bought these as a lighter alternative for a distance run on the Uinta Highline Trail. My wife and I each used one initially, and we took turns using them while getting over each pass. For distance hikes/runs when you want to go as light as possible, these are the way to go. They compact down very small, and provide a lot of rigidity when extended. The grips are soft foam which helps with the moisture. They are fairly specific when it comes to length, so you can't buy one and let someone shorter use it (won't collapse down and stay together). Other than that, they are great. Personally, I'd probably use a heavier trekking pole if weight wasn't a huge factor.



On a side note, these aren't as strong as heavy options. I made the mistake of using these (instead of my old trekking poles) while hiking the 16-mile Zion Narrows. At one point I slipped and fell into the river snapping my trekking pole in half. Not saying this wouldn't have happened with my other poles, but it would have been a cheaper mistake. If you're planning on doing the Narrows, rent the wooden poles.
BD Ultra Distance Trekking Poles Rock!
On a recent trip 'round The North Circle loop in Glacier National Park (7 days x 60 miles), I used my BDULTP's 90% of the time. They were especially useful on ascents / descents / crossing mountain passes. In this pic we're taking a break on a 1500-foot ascent on the highline trail (just below the Continental Divide). Photo by Gary Munkvold.
Ultra happy with these!
Familiarity:

I've put it through the wringer
I live to run/hike mountains. I don't NEED poles, but when you are out all day on steep loose stuff, these are poles are the BEST! Why? They are super light weight - when transitioning from hiking to running they are so light you don't even notice carrying them in your hands. They deploy and collapse in fractions of a second. They easily stow in your pack. They are always at the length you want (plenty of options in lengths). And if you like a different length for uphill and down hill, the grip allows you at least 4 inches of variability. Well, they will splinter if you plant them between rocks and go flying forward - which I can testify to - but a metal pole will bend and lose all structural integrity in that same situation. I can't imagine using anything else.
Pole of Choice
Familiarity:

I've put it through the wringer
I hiked the A.T. with a pair of Leki poles; I wish I had used these instead. They are great for distance hikes, steep hikes, and technical trail runs. Crazy light, not bulky, and the zpole design is amazingly convenient. When I do technical trail runs, I often need poles for the ridge lines/ steep descents but there will be stretches where poles are not convenient. I strap these guys to my pack and don't even notice that they are there. Only complaint is the handle, cork is a bit more comfortable. All in all, I am incredibly glad I picked these up.
Rainy day on Lone Peak, UT
Envy of my friends
Familiarity:

I've used it several times
I'm using these poles regularly as I'm recovering from an injury. They allow me to take some of my weight off my leg, assist in balance and help me power up hills. Friends with hiking poles are in awe of how light they are! I feel like they're very sturdy and trust putting my weight on them. My only trouble with them is that the small button used to release them for folding is a little tricky to press with cold hands.
Sizing Guide for Trekking Pole Length
I went through the trekking pole sizing exercise a couple years ago. I'm 5'-11" and went with the 120 cm length in Black Diamond's UDTP. After many adventures with these poles, the 120cm length feels great (!) on ascents, descents and level hiking. The pole length (my example = 120cm) is measured from the pole tip to the top of your hand at the top of the grip - just below the "knob" at the top of the pole grip (see pic). Wear your boots, stand on level ground and have a friend assist with measurements**. The goal is to have the underside of your forearm level (+/- 5 degrees) when holding the pole in this position.



** Note: inches x 2.54 = centimeters
Lasted 2050 miles
Familiarity:

I've put it through the wringer
I have to give these poles a five star review. I used them while thru-hiking the Appalachian Trail. They are super light which is awesome when you pack them away. My only negative feedback is that the button to collapse them got rusted in about a week. After that trying to collapse them became almost impossible as the button was always stuck and you really had to jam it. The carbon fiber eventually broke on the pole.
Hey , which size should I choose if my...
Hey , which size should I choose if my height is 5'10? thanks
I'm 5'10 and normally use 120cm poles. If you stand with your elbow at a 90 degree angle(forearm is parallel to the floor) and measure from the floor to the top of your hand you'll get a good guess at the right size for you. If you fall at 115 I would size up.
See "Sizing Guide for Trekking Pole Length" picture/description that I posted, above, on 5/4/14.
Amazingly light
Familiarity:

I gave it as a gift but have feedback to share
I bought a set of these for both my parents and they are lighter than I would have thought possible for a trekking pole. The z-pole design allows them to fold up in to a very small and easy to transport size, and so far they've been a great. They do seem a little fragile, and might not be good for difficult scrambles (where much sturdier poles have been broken).
my favourite
Familiarity:

I've used it several times
This is my top choice when hiking. They are resistant and SUPER light. because they are carbon fiber, they tend to not vibrate so much if you hit something hard (like a rock on the trail).

They are also really inexpensive for a carbon fiber pole.
Does anyone know what changed between the...
Does anyone know what changed between the 2012 and 2013 version of this? The 120cm pair weighed 9.5oz in 2012, but now weighs 10.2oz...

Did they decide they were too fragile and strengthen them or something?
Great question, I would like to find out about the difference between 2012 and 2013 model as well. Cheers
Ultra light poles that are perfect!
Gender:

Male

Familiarity:

I've put it through the wringer
Add to the review the following: I just completed 225 miles and over 35,000 in total elevation gain doing the Coast to Coast in England. The poles were perfect. A fixed size is all you need. I never see anyonae adjust poles depending on terrain, you just move your hands on the grip. PLus the Z feature means they stow easily on the pole holders of my Osprey Manta 36. Everyone else struggles with where to stow their long adjustables, while I just folded mine them and stowed them on the pack. GREAT feature!! (Prior review follows) I've used these now on several hikes, from Montana winding up and down trails, to wet Brothers Wilderness trails, from ridiculously steep goat paths to rough traverses. Up and down the trail they are great support and assistance. Their lightness means you hardly feel like you are carrying anything, but there is no question they provide great support. My only issues are that the wrist straps seem to be wearing out pretty quickly and they rattle a bit with each pole plant. But I can live with both, because their ultra-light nature puts them way ahead of anything else I've used on the trail, from REI brand to others.
Be wary of lightweight poles
Familiarity:

I've put it through the wringer
Before I left for my 30-day hiking expedition through Scandinavia, I researched trekking poles and fully understood that "lightweight" can also mean "delicate." I'd like to reiterate this for anyone considering using this product for longer expeditions. I purchased these poles because I was set on going lightweight. Unfortunately, my right pole snapped in three places after a fall on Day 4 of my trip. No problem, I thought, as I'm still happy to use one pole. Finally, on the last day of the expedition, I lost my footing on some rocks and snapped the remaining pole in half. Don't get me wrong, it's a great product for what it's designed to do. Just keep in mind what you plan on using it for!
Black Diamond Ultra Distance Trekking Po
Hi, my partner is exactly 5'1" (154cm);...
Hi, my partner is exactly 5'1" (154cm); should I get the 100 or 110cm Ultra Distance Trekking Pole for her? It will be used for hiking in Patagonia and the Inca trail next year. Thank you!
Hey Protik,

Thanks for the question! This will involve a little bit of measuring.

Check out this quick how to:



http://www.trails.com/how_41535_size-trekking-poles.html



You may also want to consider adjustable poles, I've found it helpful to shorten poles when hiking uphill, and then lengthening them back up for walking on flatter terrain.
Best Answer
There is some personal preference involved here but probably the 100cm. Better to be on the short side for the uphills. If you are using them as crutches going downhill for the most part, go for the 110cm. And I would suggest the distance instead of the ultra distance for an additional 2 oz or so. I am 5'5", 112 lbs (I use a 110cm) and snapped one of these last year with little force...broke it off at a joint. This is designed more for trail running. If you break it, your support crew has a spare or you finish the race without. I walked 10 days with one of these duck taped...worked better than expected. Again, for the travel you suggest go with the BD distance model...if you are unsure about the length, there is an BD adjustable women's distance FL. I think it ranges from 105-120 cm. Adds some weight though. BC has them. When I bring sticks, I tend to use them all the time. If you carry your sticks in your pack...dead weight...most of the time, then maybe these make more sense. BTW, seems to me that Skurka dissed this for long distance back packing...too fragile.