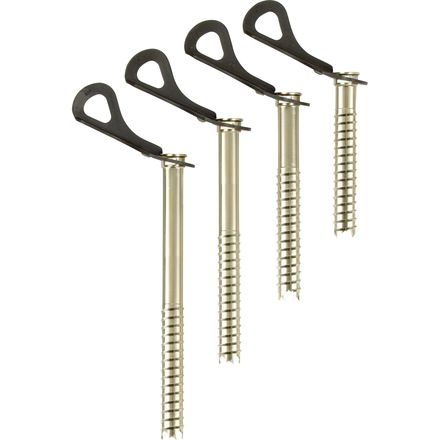 Colors

Community Images
Description
High strength and durability for years of solid placements.
Black Diamond Tubular Ice Screws are made for the climber who values life and isn't willing to mess with sub-par designs when the chips are down. In desperate situations seconds count. And when it's one screw between you and the deck, quality counts. That's why Black Diamond Tubular Ice Screws are made from 4130 aircraft-quality seamless steel tubes, pierced and cold-drawn for superior strength. The teeth are cut on a vertical mill then heat treated and plated with bright nickel. With aggressive threads for holding power and tapered tubes for ease of placement, this is a screw that cuts sharp, pitch after pitch, year after year.
Ideal for the ice climber on a budget who doesn't want to go with an off-brand screw
Great beginner screw
Familiarity:

I've used it several times
If you are just getting into ice climbing and don't have the money for your own ice rack, then pick up a few of these. They are great on low angle to moderate ice and icy snow couloirs that are too hard for pickets. As you get into more vertical and technical ice definitely add screws with the knob to your rack but these are a great place to start.
Go with the knob
Familiarity:

I've used it several times
I'm giving this three stars because it is still a well-made screw and does its job.



HOWEVER, if you have never used these or the new hangars on the express, don't get these to save the extra money. When you're pumped and sketched out on a vertical pitch, you do not want to spend extra time cranking this thing in. If you only climb glaciers or low angle ice and want running protection, then I might recommend this. Not for vertical ice though.
Have a few of these in the 13cm length to supplement a rack of screws with quick placing knobs. Very smooth to place, not too bad without the knob, once started you can use the palm of your hand with pretty good speed.
I've used these and the BD express quite a bit. I like the handle on the exress a lot, but not sure if it justifies the added $20 price tag. If it's a difference between having enough screws or not, then go with these otherwise maybe try to build up using the Express so you can have the better hanger and handle to drive the screw in nice and fast.
Write your question here...We're going to...
Write your question here...We're going to Ouray in early February.
I'd like to get my husband a few new screws. What are the best lengths?
the two mid lenghs in stock
I prefer 16 cm most of the time, but you really need some of everything eventually. Ouray is usually pretty thick, though not the best ice for leading, usually just top rope there.
How to Place an Ice Screw with Stephen Koch
Backcountry.com athlete Stephen Koch demonstrates how to place an ice screw while ice climbing.

www.stephenkoch.com
Used the 19s to place numerous running belays on icy sections of Bolam Glacier, Mount Shasta. They worked great. Maybe the handles would be necessary for ice climbing, but for general mountaineering the turbos are a cinch to place for an extra level of safety on that touchy icy stretch. I like 'em.
What size? I'll probably only be in 4...
What size? I'll probably only be in 4 person teams, on the temperate glaciers of the Pacific northwest. I was going to pick the 19cm just because I assume longer ensures a better "bite" but the 22cm might be overkill. I don't ever plan on doing any vertical climbing. Any advice for a newbie? Thanks!
Best Answer
I believe the 19 is the most versatile. Depending on your budget I'd get 2 19's, 1 22cm and 1 shorter one (13cm?) Long is nice if you have thick enough ice, but if it's too shallow a screw that's too long will be worse that one that's too short.
Thanks Ryan, I'll probably grab up a 16cm and see what I think. (I've moved to AZ so I don't have the same amount of access)
I'm adjusting my answer based on a few more years. 16cm is, IMHO, the size I use most of the time. They are plenty long, but are short enough to keep you from hitting rock too often. That said, you still need some 19's especially when creating an anchor in spotty ice.
Lack of a winding knob makes thisi screw obsolete. Save your money and get a knob.
Quality product. Vertical ice was sloppy one day and brittle hard the next but the screws worked well in both cases and I felt secure. I also had the fancy BD version with the folding knob and used both equally and with the same amount of ease/comfort.
Have only used for mountaineering on a glacier, and glacier ice climbing, but I was very happy with the ease of placement. After using both these and the expresses I would really say there is no need to get them unless you need extra fancy systems to skrew your ice skrews in. Not necessary at all though
Always keep a 22cm on my glacier rack for building V threads. Can't beat it for the price.
Black Diamond Turbo Ice Screws
This is a great screw and my favorite of different ice screws I have. It is really easy to place. The teeth are still razor sharp after two seasons of climbing on it. There are no signs of major wear. For the money it is your best bet. I prefer these over the new express screws. It only takes a few more seconds to place these.
These are great screws. They are a simple old style, and razor sharp, the will last a very long time thats for sure
These are great, very simple, reliable style, great for glacier and ice climbing. Great value and great quality.
Great performer; old-school style.
Even if these screws place more slowly than every other screw, they are still great for setting up a belay or TR, and we save on the price. A nice price point screw!
Black Diamond screws are the best hands down.

Petzl's may have all sorts of gimicks, Grivels feel a bit sharper when new, and OP screws might be a bit easier on the wallet, but for long term use, and a screw that keeps its bite year after year, these are the goods.
Really super duper screws - just really super
These screws are really fantastic for the cost - They really seem to stay sharp over time and takes little effort.