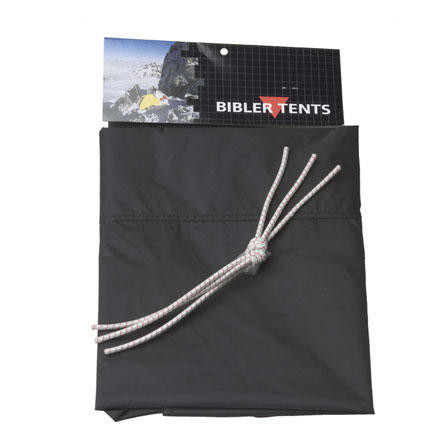 The Black Diamond/Bibler Tripod Bivy/Lightsabre Groundcloth is, predictably enough, a fitted groundcloth to protect the bottom of your Lightsabre or Tripod Bivy. Reasoning that the designs of both Bivys are identical, and that different materials don't change the shape, BD and Bibler chose to utilize the same groundcloth for both. Tough enough to survive years of being spread over rocky, nasty terrain, the Groundcloth adds minimal weight but gives substantial protection to your beloved bivy.
Unanswered Question
What is the weight, and measurementsof the...
What is the weight, and measurementsof the Bivy Footprint?
Expensive tent is happy about it
I've always considered a ground tarp / footprint to be essential gear. It adds only a little weight to your setup but will extend the life of your tent by leaps and bounds. I've also never punctured a sleeping pad, and I attribute that to always using a ground tarp under my tent. If you don't want to spill a bunch of money for this exact piece of equipment you can accomplish the same goals with a sheet of plastic like a tarp, an old shower curtain, etc.
Worth it to keep your expensive Lightsabre from getting damaged by direct ground contact.
Tripod and Lightsabre Bivy Groundcloth
This footprint is great. I feel much better now when I lay my Tripod down on the "cold hard ground".