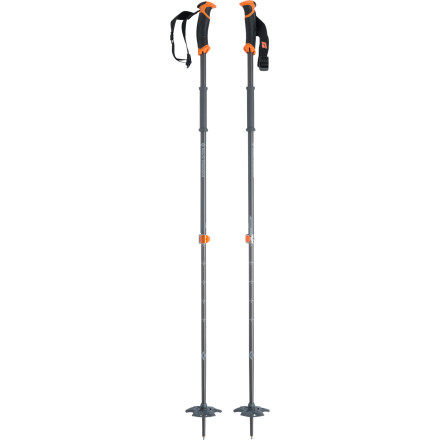 Colors

Detail Images

Community Images
Description
Day-in, day-out durability that takes what the backcountry dishes out.
Black Diamond's versatile Traverse Ski Poles are the trusty workhorses of backcountry ski touring. Durable aluminum construction takes the beating that you put on them up in the mountains. Black Diamond's FlipLock Pro system allows for quick easy adjustments and security. Large baskets and lightweight materials keep you moving quick through deep snow, and Black Diamond even designed a grip specifically for the gram-counters, to keep things light.
16mm aluminum upper—18mm aluminum lower
Touring Series grip with fluted interior
Touring Series strap with lightweight webbing and ladder-lock buckle
Lightweight grip extension
100mm powder basket
FlickLock Pro adjustability
They work fine and look fine
Familiarity:

I gave it as a gift but have feedback to share
I bought these for a friend but they look like solid poles
Something to hold on to
Familiarity:

I've put it through the wringer
Pros:

1. huge range of extension / with measurements

2. comfortable grips

3. clamps never let the pole collapse when in use (clamps are metal some brands use plastic)

4. very durable



Cons:

1. they are orange (mix it up BD)



I have used these for 3 and they haven't let me down. They don't have much paint on them these days but they still work. The powder baskets are good most of the time. I like that they are flexible to not get caught on things but they don't have the rigidity to flip up my risers on my touring bindings. The carbide tips show little wear even though they have seen a lot of dirt, rock, and yes even parking lot pavement. Also the grips on the upper section of the tube are a nice feature. Worth the $85. I would buy them again


Gets it done
Familiarity:

I've put it through the wringer
My boyfriend uses this pole from resort skiing to a sun up to sun down day of touring and ski mountaineering. Although this may not be the lightest pole, it has held up to all of the tests I have seen it put through, plus the sliding grip below the main grips is an added bonus for booting up steep couloirs.
Unanswered Question
Diameter of Poles: Black diamond website: 16 mm (.63 in) aluminum upper with 14 mm (.55 in) aluminum lower for The Black Diamond Traverse. Check the Specs for the shaft. Thanks
not what they used to be
Familiarity:

I've put it through the wringer
I loved the old Silver anodized traverse pole, nearly indestructible, I still have a pair that is 15(?) years old. Then a few years ago in an attempt to shed weight BD decreased the diameter of the Traverse and brought out the Gold anodized version. Nice and light, though not quite as tough, I bent several lower sections over a few years.

This latest dark anodized version (pictured here) is weaker still. Maybe a lower grade alloy? The lowers have been bending regularly for me, and I snapped my first lower section ever this year, it broke very easily.

The traverse still has the best lock mechanism in the business, imho. But, I can't recommend these newer/weaker poles above any others on the market, which is a bummer.
They still do the job, but not the highly reliable backcountry gear they were a few years ago
Way better than expected
Familiarity:

I've put it through the wringer
Before I bought these, I already had some bad experiences with adjustable trekking/skiing poles. I admit I've never paid much for them, but they did not hold up even to their value, so I stuck with regular skiing poles for some time, but then I started to tour more, and I started to look back at adjustable poles again. I believe BD makes pretty much the same poles with 2 adjustment points, but I decided that a single point should make them more durable. Durability is always my first concern. Anyways, I took them with me everywhere this winter, skiing both in resorts and backcountry. I am happy to report that they're alive and well. Fliplock worked great, never got frozen. They do scratch pretty easily, so their pretty look fades away rather quick, but I guess it is just a matter of what one likes. I like them scratched :)



Pros:

+ Durable,

+ Fliplock does not freeze

+ Great powder baskets

+ Pole's tip is *NOT* mounted on some plastic, so no need to worry about breaking it by using your ski pole to change binding's mode



Cons:

- None observed.
Good Poles
Familiarity:

I've used it several times
How many times have you ever thought "Man I totally would have skied that, but my ski poles were slowing me down." Me neither. But if you ever did these would be the poles for you. Love the adjustable-ness and the powder baskets.
Good value and construction
Familiarity:

I've put it through the wringer
I have been ski touring with BD Traverses for many years and just upgraded to the latest model. I have been happy with the new Flic-loc system as they are not that prone to icing. The swing weight is excellent and the powder basket is great on the deep days. I like the shaft grip on this model better than previous models since it doesn't slip as much on really cold days. I am happy to report that they seem to hold up just as well as my older models even after several long tours. These are an all around solid backcountry skiing or trekking pole.
Solid
Familiarity:

I've put it through the wringer
These are great for touring, solid, and easy to use. I also happen to think they are a lovely shade of orange, easily sorted out in the back of the truck and fished out of the snow. These were purchased for my husband, and have seen a few years use, mine are a few years older and adjust like they are brand new. Wrist straps are easy to use, too.
Great Adjusting Trekking Poles
Familiarity:

I've put it through the wringer
These poles I got when I desperately needed new poles, we whet to REI to look for poles but they had no poles to choose from. So it was either a pair of $160 smith poles that didn't quite fit or $20 (with $20 off coupon) ugly orange flame poles that will probably grow with me until the day they break (they are really long.). I chose the orange flame poles . I have seen many people over the 4 years I've had these poles have the same poles except like really bent up and stuff, so I don't know how they got theirs that way, but mine minus a few scratches (I got this year from a big crash I had) have been perfect. I do think Black Diamond should change a few things though put out more girly designs so these poles would interest me more to pick them up in the first place and add holes at the top for knuckle guards because I really want to add them but there is no where to put them. Other than that these poles are pretty good. Nothing fancy just plain ski poles.